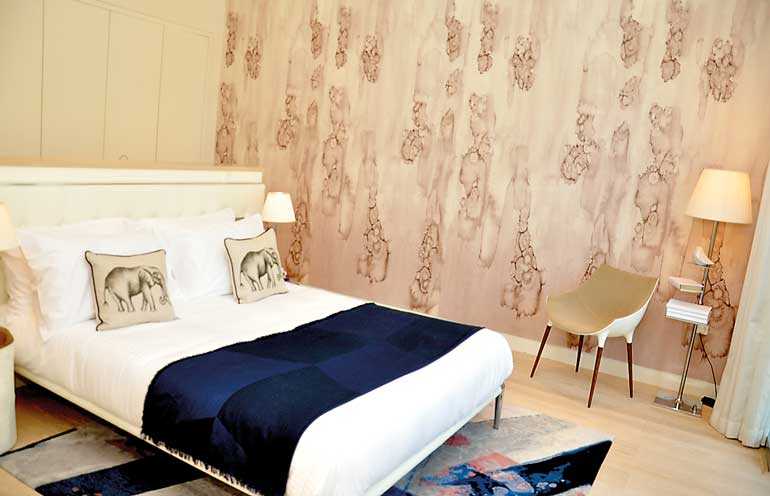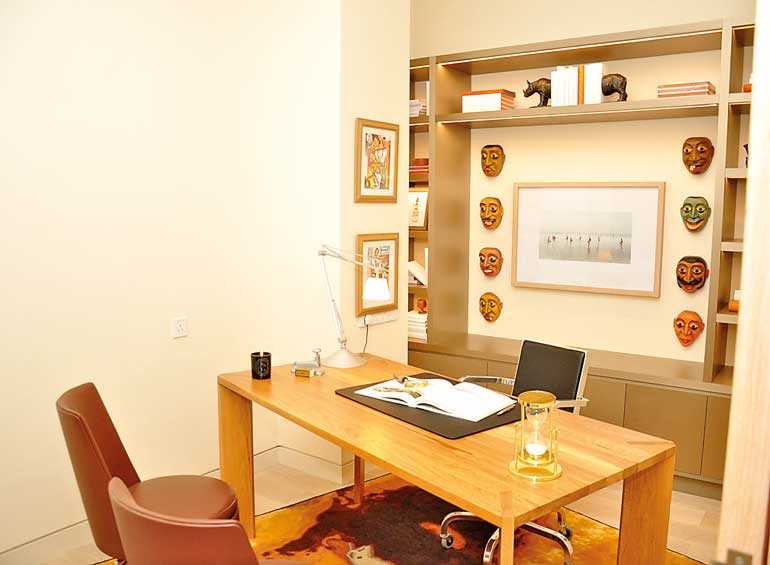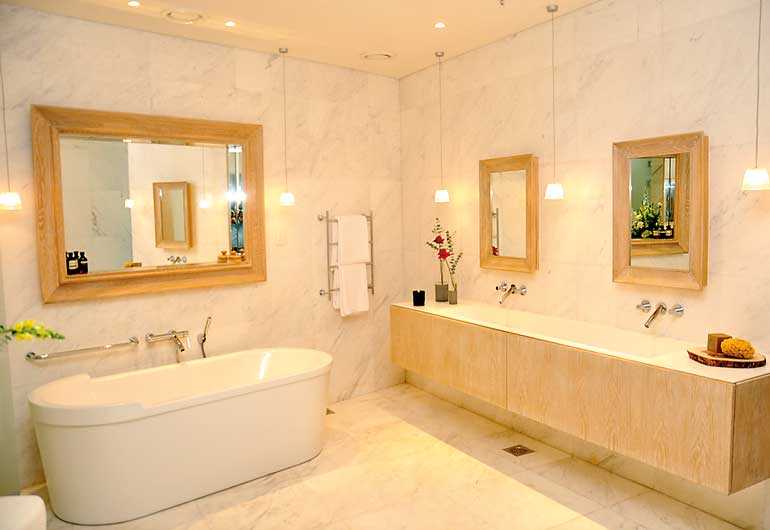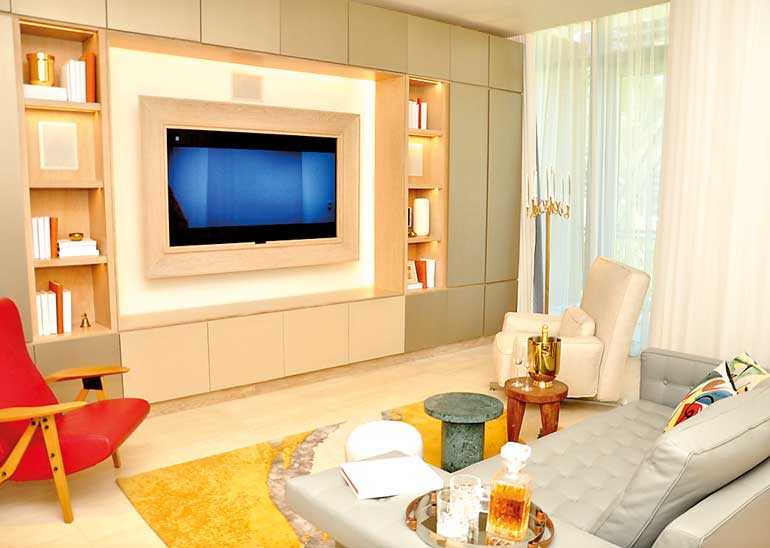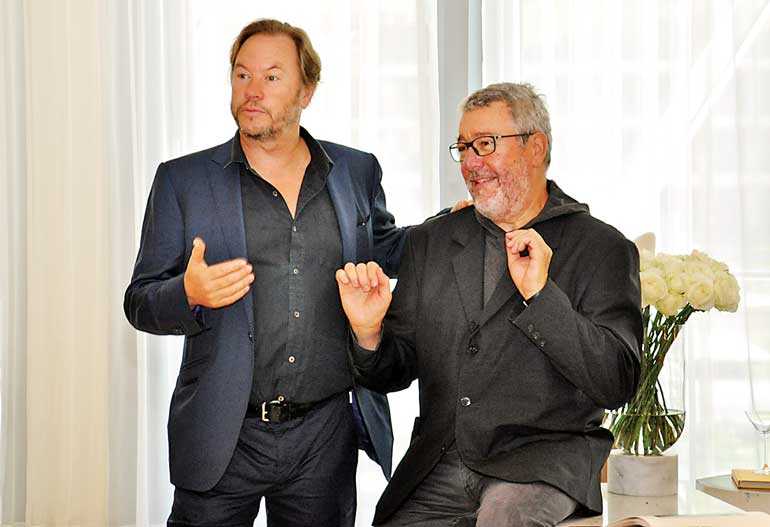 John Hitchcock and Phillipe Starck
Says positive de-growth is the way for the future
By Darshana Abayasingha

Sri Lanka takes its first steps into the branded residential market with the iconic Sapphire Residencies that is currently taking shape at the Galle Face Centre Road by ITC Hotels.

Sapphire Residencies is designed with the belief that every apartment should be a haven of tranquillity, reflecting the personalities of its owners. ITC has commissioned visionary French designer, Phillipe Starck, along with London-based lifestyle studio, YOO, headed by global property magnate, John Hitchcock, to develop four distinctive living spaces for its residents.

ITC will invest over $ 500 million in the project, and the twin towers of the Sapphire Residencies connected by a spectacular sky bridge will redefine the skyline of Colombo, infusing a truly modern global flavour to the city.

The maverick designers shaped four living styles in the buildings themed 'Nature', 'Culture', 'Minimal' and 'Classic' offering interiors that are refined, simple, airy and sleek to suit individual lifestyles. The average size of an apartment at Sapphire Residencies is an impressive 5,000 square feet andboth Starck and Hitchcock were in Colombo last week to visit the project.

Speaking to Daily FT, John Hitchcock, said his company "YOO came into this project with a big idea, and ITC has made a really solid commitment to Colombo and Sri Lanka, which at this time needs some brave pioneers and have got themselves probably the best site in town. I think the challenge they have is the pace in which the economy picks up. For Sri Lanka, I think this is a solid investment and a good mark of confidence, and it will accelerate peoples' return here. I think the concept of building a very high-end property where very wealthy families can come in will be good for the economy. The spirit of this project was based on both humanity as well as its commercial aspect. It is very much a public private partnership and a sign of business back to usual in Sri Lanka."

The engagement of YOO with Hitchcock and Starck is testimony to the commitment, investment and promise of ITC with the Sapphire project. Phillipe Starck is globally renowned for his interior, industrial, product and architectural design where he has been instrumental in imagining new concepts and designs for the International Space Station, furniture, yachts, ebikes and electric cars, medical appliances, wind turbines, domestic appliances, clothing, mobile phones, eyewear, luggage and many more.

In 1983, then French President, Francois Mitterand, appointed Starck to refurbish the President's private apartments at the Elysee. Starck is fervent about his concept of democratic design, which is an ethos for well-designed functional objects that are applicable to all.

"I have no taste, I don't know what is beautiful and frankly I don't care. I want things to be functional, to help my friends to have a better life. At the end, I don't want people arriving here to simply think it's chic, it's beautiful or it's rich… I want people to say it is good to live here. I want intelligent people to have a good life. I want people to have happiness," Starck averred.

In his eyes, intelligent people are those who recognise quality anywhere. These are people who can enter an art gallery and discover the right painting that suits them instead of that what is trendy. People who could walk into a flea market and find something that presents quality and value for just one dollar – the people who question rather than follow, Starck explained.

"I saw beautiful architecture all over the world. But after a while I felt it was not built for the people inside, but instead for the glory of the architect. I felt it was important to make the family inside happy. But where is the happiness, the soul and tenderness. Because we are increasingly alone in this modern world. In cities, people hardly know the persons living next to them and the less you understand him the more you hate him. This is not human behaviour in my opinion. I hate it when people want to spend lots of money on apartments, boats, jewels to show they have money. They are showing their own vulgarity of thinking. I love quality, and that does not mean it has to be boring for it can be fun; I love respect and quality. With Sapphire Residencies also we have created a vertical village. In a vertical village we bring people together, where people can meet. We will make a good place for the whole family and everything they want in living is there for them," the Frenchman stated.

Together with Hitchcockat YOO, Starck said they constantly endeavour to create something different for consumers as they have done in over 40 countries across the world, and this was no different in Sri Lanka with ITC and Sapphire.

Unlike most real estate projects and developers, the group does not wish to create buildings to simply sell and garner high profits – instead they will look to make it better through qualitative planning for a timeless experience, he said. The plans and layout are devised to bring the family together, as happiness and contentment starts at home and developers have an important role to play to ensure it is a place of security and love with good quality of life. The vertical village concept adds to that where we bring families together as one, in what will be a comprehensive environment moving with like-minded people in a fulfilling and interesting form of life.

Hitchcock and Starck added that whilst they inculcate learnings from around the world into their buildings, plus, collaborate and adjust with local suppliers and the environment, they desist from creating something – especially with furniture – that rings loud we are here in Sri Lanka or any other destination.

Starck reminded it is his job to make good quality functional furniture. "Earlier the world had frontiers but now they exist less and less, and every country is an addition of sentiments and tribes. YOO buildings speaks to one tribe and they are all over the world." He added that he and Hitchcock try to help people discover themselves through their creations, as buying the wrong apartment can become a most "stupid" decision.

"I am a dreamer, I have a strange life and we work all the time. My biggest sadness is that I am from a generation which is still based in materiality. I am sad that most of my projects finish in materiality. I am very happy to explore aspects where I can dematerialise things. That's why I am very happy to work on perfume now. This may sound very strange, but I have successfully input some of my philosophy to perfume. With perfume you create a new universe for people, with just milligrams of something you feel protected. You create a big effect on a person with almost nothing. For me elegance and intelligence is creating the maximum effect for the user with less materiality. This is my Robin Hood strategy; to use rich people and apply them and their resource to democratise products. My work is for everybody," Starck explained.

The designer has inculcated this philosophy into almost all his creations and lifestyle solutions offering minimum branding but lasting efficacy through the effective use of technology. "I think that's a prototype of the brand of the future. You don't buy the name or the signature, but your buy the intelligence inside."

He points to the new eyewear range he has designed employing nano-biomechanics replicating a human clavicle as an example, which he insists he does not want to become a fashion company, but instead benefit people.

"Things are at times worse now than it used to be. Ten years ago, I was of the opinion that all our intelligence will help us all finally. But, after ten years we have spent a lot of our intelligence and creativity to give less than 5% of the solutions to the needs we have. That is very disappointing, because there really are enough creative solutions. The only solution is to know we are all responsible for greater outcomes, and to question ourselves before you buy something; do I really need it? If you do that you can reduce consumption from 20 to 60%. Even if you bring it to just 20 or 30% that is still very good and it can be done easily but we still don't do it. I have always been interested to see why we don't do it, and that is because of the difference between animals and us, as we are intelligent but also creative. It is in our DNA is to create, we know we have to stop creating but that is impossible. But there are ways we can continue to create but consume less, and that can be consistent with our ingrained DNA. I call that positive degrowth, because that is acceptable for us,"Starck concluded.