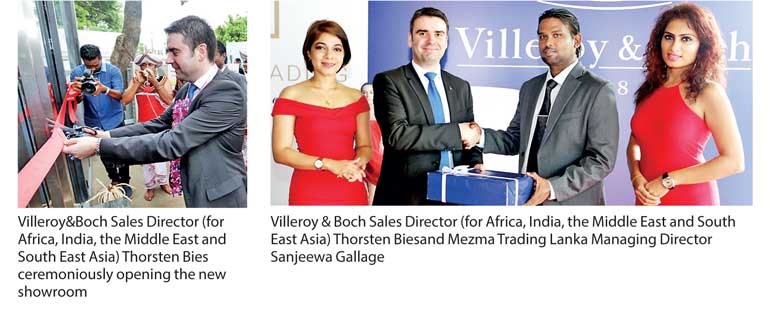 The world-renowned German ceramics brand 'Villeroy & Boch' officially launched its presence in Sri Lanka with Mezma Trading Lanka Ltd. being appointed as its official representative in Sri Lanka.

In keeping with Villeroy & Boch's penchant for elegance and style, the main showroom for the brand was declared open on 2 March and is located at 362, Nawala Road, Rajagiriya. Villeroy & Boch Sales Director (for Africa, India, the Middle East and South East Asia) Thorsten Bies was the Chief Guest at the grand opening ceremony.

Mezma Trading Lanka's elegant new Villeroy & Boch showroom is designed to reflect the values of the brand and convey a sense of elegance, sophistication and discerning taste making it a pleasure for customers to visit and browse. The showroom focuses on Villeroy & Boch's extensive and inspiring range of bathroom products and should definitely be a top priority stop for those looking for elegant designs and the most premium quality ceramic products for their homes.

Discussing the launch, Bies said: "We are extremely pleased to have successfully launched Villeroy & Boch in Sri Lanka, which is a growing market with many customers who expect nothing short of the best. For more than 200 years we have been producing only the finest quality ceramics and being successful for such a long time means that our customers are more than satisfied. We are excited to be able to make our products available for discerning Sri Lankan customers."

Speaking about the new partnership, Mezma Trading Lanka Managing Director Sanjeewa Gallage said: "It's an honour to have been appointed as Villeroy & Boch's official representative in Sri Lanka. The values of both our businesses are congruent with each other and we are confident that our partnership will be immensely successful. We have launched Villeroy & Boch in Sri Lanka at a very opportune moment as there is a growing trend in Sri Lanka towards elegant, sophisticated products that are of exceptional quality and this is what we deliver. Our showroom is designed to be inviting and to encourage customers to explore and make the best choices and we look forward to our customers visiting us."

Villeroy & Boch is a premium European brand of ceramics produced in Germany with a history of over 200 years, making it one of Europe's oldest brands. Founded in 1748, the company is headquartered in Mettlach, Germany and stands for innovation, tradition and exceptional style. Villeroy & Boch is renowned as a lifestyle brand offering products in the categories of bathroom, wellness and tableware and having an active presence in 132 countries.