Serenia Ltd. with a vision of being an ultra-premium beachfront resort living mixed development company has engaged A-Design studio; to bring their distinctive design elements to the iconic 47 apartment beachfront residential development and 10 roomed five-star boutique hotel – 'Serenia Residences Talpe Galle' – with sales due to commence shortly.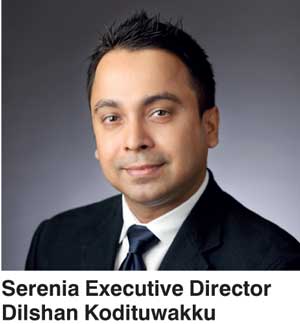 Serenia Residences will be a private beachfront mixed development project in Talpe, Galle. Talpe, known as the 'Million Dollar Golden Mile' of the Southern Coast comprises of million dollar beach villas ranging from $1-$5 million, located just 10 minutes away from the Galle highway exit, passing Unawatuna.

The 47 perfectly handcrafted residences which are the largest apartments in their class will be launched at a starting price from just over $ 300,000. Talpe Beach is currently the most expensive beachfront real estate in the country. Construction of Serenia Residences is expected to commence in April 2018 and is scheduled for completion in December 2019.The development is located on 180 perches (4,550 sq. m.) of land fully owned by Serenia Ltd. with approximately 100 metres of private beach frontage consisting of two towers of Ground+ 9 and Ground+8 tower.

A private collection of just 47 luxury residences for discerning few, including 36 spacious Two Bedroom Residence Suites (ranging from 1,358 sq. ft. to 1,667 sq. ft.), 6 Three Bedroom Sky Villas (1,841 sq. ft.), 2 elegant 3 Bedroom Garden Villas offering direct beachfront access (2,695 sq. ft.), Two 2-Levels Custom Sky Penthouses (4,400 sq. ft.) and 1 unique 2-Levels Custom Presidential Penthouse (12,700 sq. ft.). All residences have magnificent uninterrupted views of the Indian Ocean magnified by the floor-to-ceiling windows and 2 meters wide terraces covered in glass. The 2 Bedroom Residence Suites have a spacious wrap around terraces with 180-degree views of the ocean.

Every day will seem like a holiday, with ground level Garden Villas offering private pools, courtyards and direct beach access." The beautifully designed rooftop terraces of the 2-Levels Custom Sky Penthouses will be equipped with a private infinity pool with sweeping views of the Indian Ocean and Galle.

European kitchens, lighting, wood and tile flooring, fittings & fixtures will be utilised for the entire project making it elegant and long lasting. Furniture packages will be offered all clients including those who wish to rent their apartments after handover.

The project also consists of 10 roomed five-star boutique hotel, 'Oceana' a signature seafood restaurant, "Café Marina" all day dining restaurant, Champagne & Tea Bar, GETAWAY spa, 6000 sq. ft. infinity pool with a swim-up WET Bar, Heated Jacuzzis, Fitness Center, Kids Daycare and most importantly approximately 100 meters of private pristine beachfront bordering the most serene ocean swimming areas in the south.

According to Dilshan Kodituwakku, Executive Director Serenia Ltd., the site's positioning in the 'Million-dollar golden mile' represents a unique development opportunity in the south of Sri Lanka and is the only apartment residence so far, that provides private beach living, where residents can step out directly on to the beach and then ocean. Resort living is our primary proposition, creating a home where every detail is taken care of, with 24-hour services that include valet parking, housekeeping, room service, maintenance and security. We take care of all of the above, leaving you, to truly enjoy your stay".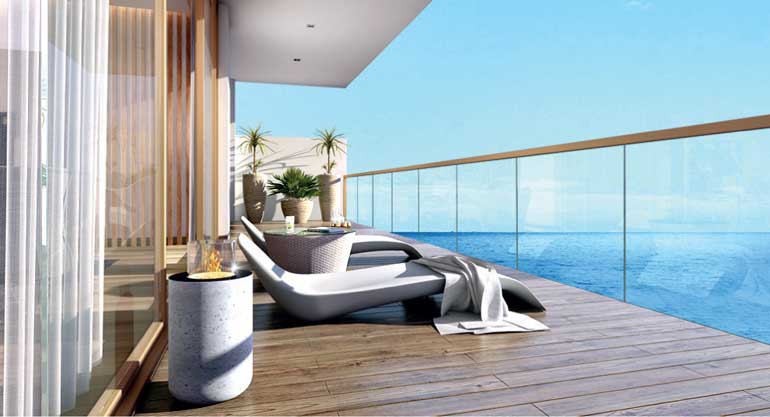 Bed Sky Villa Living Room
"Sri Lankans as well as foreigners may own their investment as a freehold title. The Sales & Purchase Agreement can be signed when deposits of 15% are paid and registration at the land registry immediately thereafter. All monies will be obtained on escrow basis and will be linked to construction. Our banking partner Nations Trust Bank PLC will offer approved clients a bank loan of up to 70%. Whether you are a first-time southern coast beachfront owner or an investor, you may rent back the apartment when not using it, which will provide you with a minimum 40% return of the daily revenue, unlike time share methods we do not have strict occupation time periods or blackout periods, you are free to live here as long as you wish," Kodituwakku added.

Interest is expected to come from owner-occupiers including local/expatriate professional singles, couples and families, along with empty nesters downsizing from Colombo and also wealthy expatriates who have an affiliation with Galle, Sri Lanka. "Serenia Residences is about taking time off, to live life and enjoy precious moments with your loved ones; it's about taking time to enjoy the simple things in a well thought out luxurious setting. Here you invest in friends and family, where you retreat, explore, connect and celebrate on things that matters the most. Welcome to resort living!" Kodituwakku added.

The initial sales approach for Serenia Residences is private customer meeting and event based for those that express their interest in the development. For further information and registrations of interest please call on +94 773300088 or visit their sales office at Independence Arcade, Unit 17, First Floor, Colombo 7.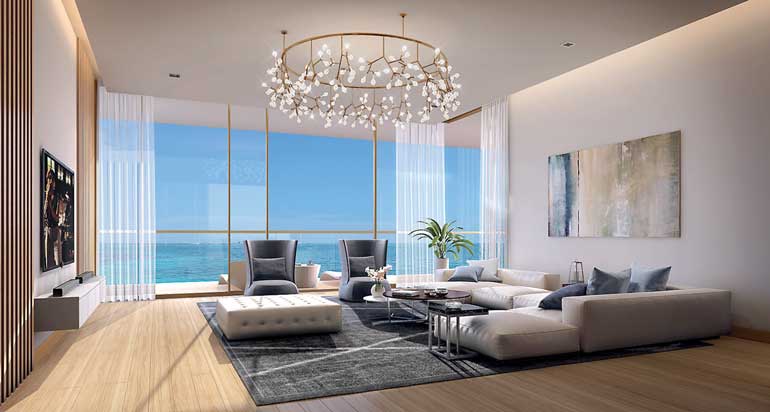 Wraparound Terrace overlooking the Indian Ocean