Vignettes of Building Beyond 2019 Emerging Engineering Technologies Summit
---
Tokyo Cement Group, at the forefront of disseminating latest trends in engineering to the local construction sector, created yet another knowledge-sharing platform titled Building Beyond 2019 Emerging Engineering Summit. Held at the BMICH on 21 August, the summit had distinguished speakers representing both academia as well as professional spheres of construction, who discussed the changing dynamics of the discipline with a special emphasis on emerging engineering technologies. The conference, focused on propagating scientific and applied knowledge of the industry, hosted nearly 250 industry stakeholders, including Civil Engineering undergraduates from all major universities, and engineering professionals from the State and private sectors.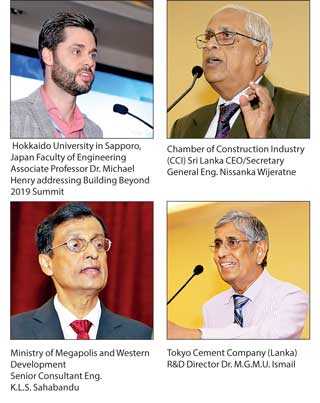 A key highlight of the Building Beyond summit was the participation of Dr. Michael Henry, Associate Professor at the Faculty of Engineering of Hokkaido University in Sapporo, Japan, who addressed the summit. Dr. Henry's visit was sponsored by Tokyo Cement Group to deliver the keynote speech at the Annual Sessions of the Society of Structural Engineers of Sri Lanka, held under the Company's patronage on 20 August at the Cinnamon Lakeside.

He opened the floor at Building Beyond 2019 by delivering a lecture on 'Durability Issues with Concrete Bridge Structures', a highly pertinent topic that was received with much enthusiasm by University students. Dr. Henry shared his learnings in applying analytical techniques such as finite element method, topographic laser imaging, drone technology etc. to evaluate the durability of bridges.

The other presenters at building beyond 2019 included prominent industry experts such as Chamber of Construction Industry (CCI) Sri Lanka CEO/Secretary General Eng. Nissanka Wijeratne, and Senior Consultant to the Ministry of Megapolis and Western Development and former CECB General Manager Eng. K.L.S. Sahabandu. Tokyo Cement Company (Lanka) R&D Director Dr. M.G.M.U. Ismail was fourth among the erudite speaker panel at the Conference.

Eng. Nissanka Wijeratne made an interesting presentation titled 'The Current Status of Construction Industry & Cost Management Imperatives', which captured the audience with a candid evaluation of Sri Lanka's construction industry at present.

Eng. K.L. Srilal Sahabandu drew from his wealth of experience to show the students certain critical structural design challenges faced during the construction of some of the large national-level construction projects, and how certain analytical techniques were used effectively to help overcome those challenges. The engineering undergraduates found this session to be of great interest, as it demonstrated how adept they have to be in translating their knowledge in to real-life solutions, in the process of becoming proficient structural engineers.

Dr. M.G.M.U. Ismail in his presentation, discussed the only fly ash classification system in the country, which employs a 'New Generation Dynamic Separator' and the unique 'Turbo Blending System' used at the Tokyo Cement Trincomalee Factory to produce Blended Hydraulic Cement. He highlighted the advantages of using 'Turbo Blending'; which preserves the spherical shape of fly ash particles to harness its unique 'Ball Bearing Effect' in order to manufacture top quality blended cement, in comparison to Inter-grinding; followed by others, which damages the fly ash particles. He also differentiated the benefits of blending high-quality cementitious materials to produce BHC, as opposed to blending only filler materials such as limestone powder. Dr. Ismail appraised the participants of the importance of following the global industry trend, by transitioning to BHC in the Sri Lankan construction industry, which is a more environmentally conscious and sustainable construction material.

The panel discussion held at the conclusion of Building Beyond 2019 Summit, was moderated by Tokyo Supermix Ltd. General Manager (RMC Marketing) Eng. Janaka Perera. This session, received with much enthusiasm by undergraduates and academics as well as the engineering professionals at the seminar, gave them the chance to ask questions on the subjects discussed as well as to clarify broader areas of interest in their research projects and on concrete.

Tokyo Cement's main objective behind organising Building Beyond 2019 was to create an industry-academia partnership that will stimulate knowledge sharing and spur on innovation among young engineering students and professionals in the construction industry. Nearly 250 third and final-year Civil Engineering undergraduates and some of their lecturers representing the Civil Engineering Faculties of Moratuwa, Peradeniya, Ruhuna, Sri Jayewardenepura, and South Eastern Universities of Sri Lanka, as well as from Sri Lanka Institute of Information Technology (SLIIT) were present at the seminar. In addition, practicing civil and structural engineers from SEC, RDA, Water Board, Ministry of Megapolis and Western Development, Port City and several other key state sector construction projects attended the summit. Building Beyond 2019 gave these students and professionals the much-needed forum for industry interaction as a means to open up horizons and gain better insights on the application of the theoretical knowledge in practical situations.

Tokyo Cement took the initiative of organising this knowledge-sharing summit with the aim of facilitating world-class knowledge sharing as the key to inspire our construction industry professionals and aspiring undergraduates who add impetus to the industry as key partners in building our nation.