Sri Lanka's construction sector which ranks as the 5th highest in the nation's GDP earnings, after services, manufacturing, agriculture and utilities, continues unhindered. The sector reports continued interest from local and international buyers who believe 'Sri Lanka will bounce back', from the recent Easter Sunday attacks that took place on 21 April.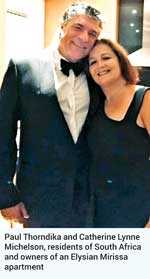 Elysian Realty Ltd. Head of Sales and Marketing Buddhika Jayasinghe, commenting on the current state of real estate in Sri Lanka, noted, "Sri Lanka is a nation of diversity, it is a nation of tolerance and learning, it is a nation that has overcome adversity starting from its independence in 1948. We are a land like none other, that has been gifted with so many natural resources, free education, free healthcare, the opportunity to grow and learn in a truly diverse atmosphere, and we are all proud to be Sri Lankan. It is with this understanding and maturity that we as a nation will continue to rebuild, show compassion and kindness and continue to make our nation great. Speaking on behalf of Elysian Realty, I strongly confirm that we will continue to trust in our partners and stakeholders, regardless of race, religion or class. We will continue forward, as a vigilant nation putting safety above all else, striving for continued growth for our nation as a whole."

Sri Lanka's construction industries recorded a GDP increase to Rs. 171,094 million in the fourth quarter of 2018 from Rs. 159,400 million in the third quarter of 2018. Although the GDP for 2019 is expected to slow down since recent events, industry leaders and foreign partners are hopeful that the nation will not see a slump in GDP contribution, as low as 2010, which saw a record low of Rs. 77,176 million in the second quarter.

Catherine Lynne Michelson – apartment investor, living in South Africa, commented, "Sri Lanka has seen adversity over the years but they have continued to stoically emerge as a phoenix rises. Sri Lanka is not the only nation that has dealt with such horrific incidents and will (unfortunately) not be the last nation to have to do so. It is with absolute trust that I will continue to support this nation in every practical way possible. I look forward to becoming a proud homeowner in Sri Lanka, upon project completion."

With several international companies/ partnerships powering many luxury residential and mixed-development projects in the heart of Colombo as well as in developing coastal and central regions, Sri Lanka's real estate potential has tripled since the end of the civil-war in 2009.