By Shannon Jayawardena

The Sri Lanka Institute of Architects (SLIA) and its key sponsors for the Annual Sessions 2018 event signed the Memorandum of Understanding on 11 December at Galadari.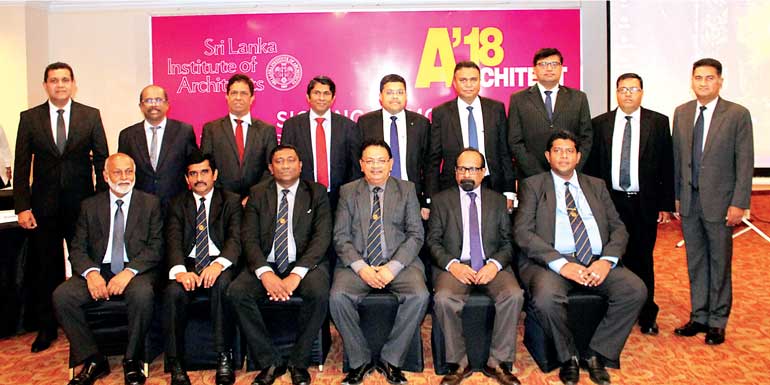 SLIA officials with event sponsors
The event, which is being organised for the 36th time, will be held from 21-25 February 2018 at the BMICH Colombo under the theme 'Architecture to represent people and place'. An A18 Members' Work and Trade Exhibition will also take place parallel to the sessions.

The exhibition, being a major part of the Annual Session 2018, will display over 300 stalls with a 130-member architect panel that will enable budding young architects to learn and enhance their creativity while senior architects can progress with their skill-sets alongside their technological evolution.

Sri Lanka Institute of Architects President D.H. Wijewardene said: "Sri Lanka is at the moment undergoing rapid development. We have many players who are designers, contractors, suppliers, architects and engineers that come into the country, as we ourselves cannot do it alone. However, we must make sure that Sri Lanka remains Sri Lanka and is not turned into any other country. For that we must ensure that the building suits the people and the place. If you miss that point, we will unfortunately miss our identity. Hence for that matter we have to deliberate the responsibilities of the institutes to highlight this element to enlighten our policymakers."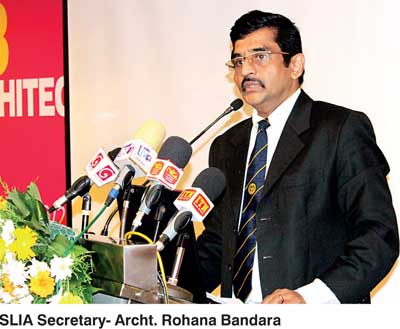 "Our own architects have done a lot of work outside and we must show that we respect them for their work. We must respect these places and people, who have built huge airports, massive factories, office buildings and many other projects. This too will be deliberated at our event. Nevertheless, it's going to be a very interesting and continuous exhibition," he added.

Participants and guests will have access to the net to surf, compare and analyse services, materials and information of all the products that will be exhibited in February 2018. A virtual reality web will also enable architects to present their products at an electronic forum during the showing.

To make this event a success, SLIA partnered Alumex Plc as the Strategic Sponsor and Nippon Paint Lanka as the Principal Sponsor. The SLIA Members' Event partnered Naveen Ceramic as their sponsor while Ranjanas Ceramic will be the event's Associate Sponsor.

While the above companies all signed the Memorandum of Understanding, Creations Master Builders, NMI Infra (Green Electricals) and Royal Ceramic Lanka signed the MoU with SLIA as the Event Sponsor and St. Anthony's Industries and Melwire Rolling came on board as the Event Co-Sponsors for 2018-2019.

The Annual Sessions play a very significant role when it comes to promoting and enhancing local talent which will in turn help shape world-class architecture that is both Sri Lankan and unique. The event's aim is to build the nation by refining and educating youngsters with a partiality for the field.

"The contributions will not only help run these institutions and different events of the SLIA for the upliftment of architects' knowledge, practices and so on but will also promote our field for the better," said Wijewardene.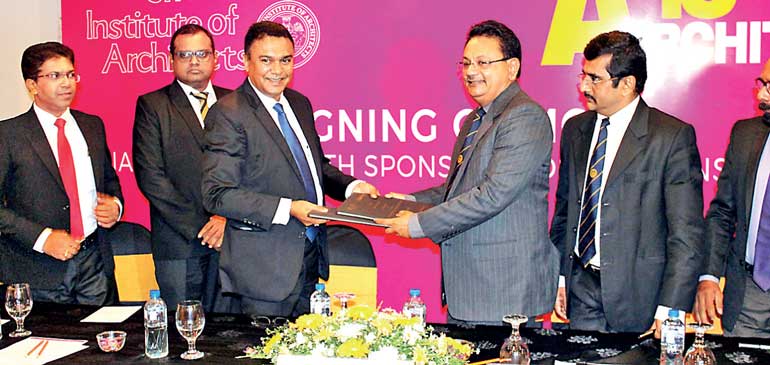 Handing over the MoU to Alumex