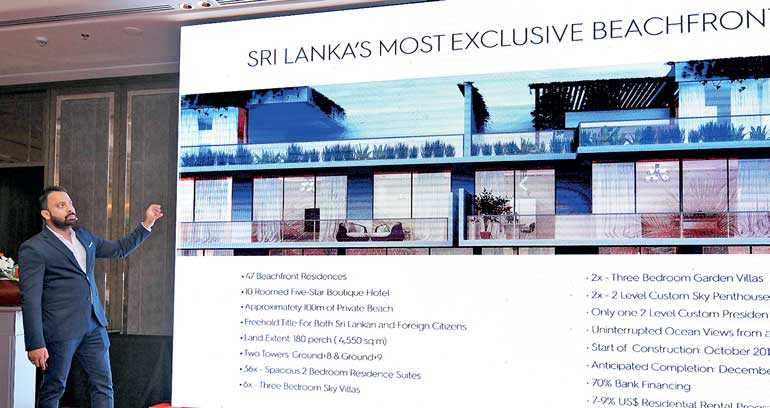 Serenia Holdings Executive Director Dilshan Kodituwakku

Serenia Co-Founder/Executive Director of Strategic Design and Marketing Sabina Karunanayake, Steven Mays – JLL, Serenia

Non-Executive Director – Legal Faisza Musthapha Markar, Sri Lanka Sotheby's International Realty Sales and Marketing Director Charles Phillpot, Access Projects Managing Director Dilshan Ferdinando, Serenia Executive Director/CFO Sivakumaran Malarkolunthu

The unique luxury residences in Talpe-Galle, Serenia celebrated the commencement of construction on their project on 22 October at the Shangri-La Hotel, Colombo.

Access Projects took possession of the site on 5 October and construction is now ongoing with excavation of the first tower, as well as micropiling being completed.

At the presentation, over 150 high-net-worth individuals had the opportunity to learn more about the project construction process and timeline from Access Projects Managing Director Dilshan Ferdinando, while the investment opportunities offered, partnerships with world-class real estate giants like Sotheby's, unique rent-to-own financing offerings, etc. were all divulged by Nations Trust Bank Executive Vice President Bandara Jayathilake, Charles Phillpot of Sothebys, and many more.

Amongst those associated with this unique project are Access Projects Ltd. Managing Director Dilshan Ferdinando, Nations Trust Bank Executive Vice-President Bandara Jayathilake, Serenia Ltd. Non-Executive Director – Legal Faisza Musthapha Markar, a-designstudio Chief Architect Roshun Meezan and Sri Lanka Sotheby's International Realty Sales and Marketing Director Charles Phillpot.

The Serenia project valued at Sri Lankan Rs. 2 billion, on 180 perches, will have 47 residences, including spacious 2-Bedroom Residence Suites and 3-Bedroom Sky Villas, the elegant Garden Villas with a private plunge pool and garden, and classy 2-Level penthouses with rooftop infinity pools overlooking the Indian Ocean.Serenia is also the only beachfront residence in Talpe, within close proximity to the Galle Fort.

Access Projects will be complete the ground floor and thereafter add one floor every two weeks, seeking completion of the project by December 2019.