Serenia Residences Executive Director Sabina Karunanayake writing on the board to commemorate the completion of the superstructure. Also pictured: members of the Serenia Residences team
Serenia Residences, a private collection of 47 beachfront residences focusing on unparalleled amenities and boutique hotel services, who together with Access Projects broke ground on the nearly 190-perch site on 10 October 2018, completed the superstructure on 25 August, within an impressive period of 10 months.

"It is a tremendous achievement and a testament to the dedication of all concerned that we have been able to finish the superstructure in just 10 months," said Serenia Residences Executive Director Sabina Karunanayake, "We have always been proud of the fact that we have kept our word to all our customers in keeping with the timelines of this special and unique project, but seeing Serenia Residences coming to life now in its final dimension is a great moment."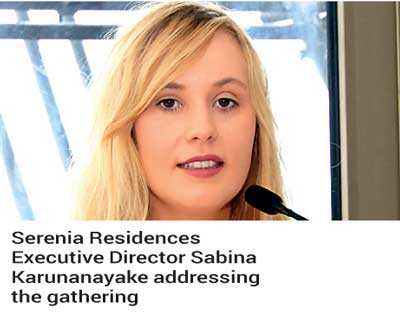 Serenia Residences Lead Architect Roshun Meezan said: "After months of designing, deliberating and developing, it is indeed heartwarming to see the structure fully completed on the grounds of Serenia Residences. Physically being able to walk through the corridors of the building to experience the phenomenal ocean view makes all the hard work worthwhile. We are well within our timelines of the construction phase. Our design dreams are about to be realised."

CSEC Project Structural Engineer Dilina Hettiarachchi said: "Embodied with state-of-the-art luxury facilities, combined with aesthetic architectural features and cutting edge technology used in the structural design, Serenia Residencies at Talpe has achieved its structural milestone unerringly. CSEC as the leading Sri Lankan structural design consultants, ensured to deliver the Project Architect's desire by preserving its original design which required extraordinary structural analysis and design."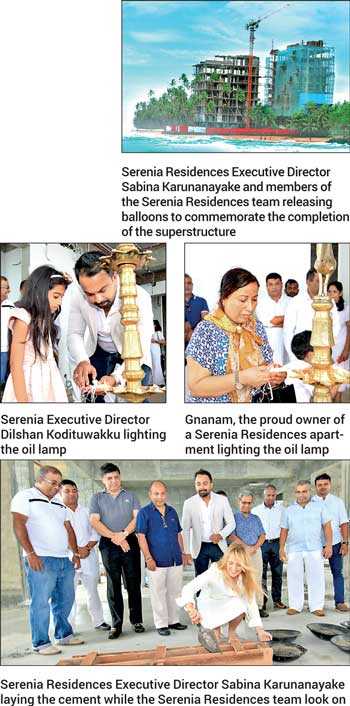 The structure was designed with the expertise of world-renowned Structural Engineer Shiromal Fernando together with Engineer Dilina Hettiarachchi, and consists of a raft foundation on each tower. The 80 degree rotation of the tower compared to the ground floor with a nearly five metre cantilever span is not only an architectural feature but a magnificent structural design that makes Serenia Residences a remarkable one. This has been the crucial point of the design, with the engineers having a series of reinforced concrete walls running from the first floor to the second floor, creating the effect of a girder system to increase the stiffness of the entire structure. To provide an uninterrupted spectacular view of the blue ocean and open skies from the apartment units, nearly 4.2 metre cantilever slabs were introduced while up-stand beams were utilised as guard walls which controlled the deflection and increased the stiffness of the balconies. By introducing the composition of steel beams and reinforced concrete together, the structure has benefited economically while optimising its functionality. A notable feature of the building is the infinity pool and the landscaped area on the ground floor. CSEC also ensured the structure confirms to its design by undertaking its structural supervision, ensuring the structure will stand firm even at a 500-year return period earthquake which the structure is designed to withstand.

"Serenia Residences in Talpe, Galle, has brought a one-of-a-kind luxury beachfront living experience to Sri Lanka. To date 5,400 metric cubes of concrete and 850,000 kg of steel have been used on the project, with a total of 220,000 man hours. Construction during its peak progressed at a speed of up to two floors per month on typical floors," said Access Projects General Manager Bandara and Managing Director Dilshan Ferdinando. Less than a year since the ground-breaking, Serenia Ltd. Executive Director Dilshan Kodituwakku said the sales team had completed over 75% of the sales, with only 10 more units left out of which three are in the closing process.

The project, which has 140 meters of private beach and is nestled between the UNESCO Galle Fort and famous Unawatuna and Weligama Bays, offers a host of boutique hotel amenities, including 24-hour concierge service, four F&B outlets, a 6,000-square-foot salt water pool with a pool bar, spa, kids club, fitness centre, temperature-controlled Jacuzzis, and outdoor cinema.