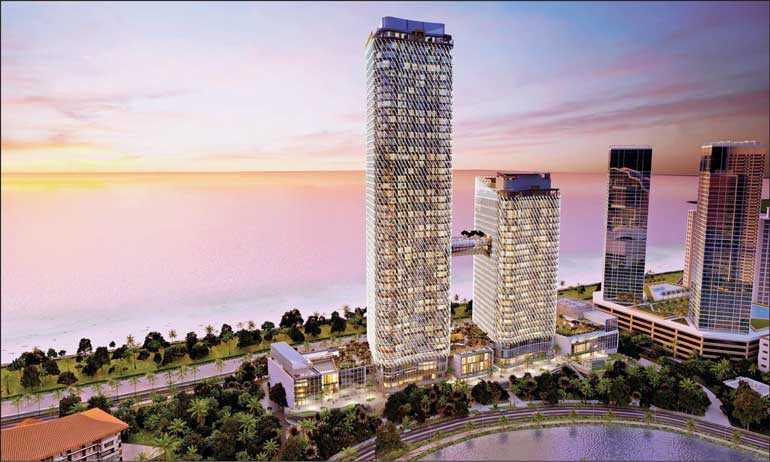 ---
In this exclusive Q&A with ITC Ltd., India wholly owned subsidiary WelcomHotels Lanka Ltd's Managing Director Arun Pathak, outlines plans for business continuity in the wake of the pandemic and reiterates the company's commitment to help to rebuild the construction sector and economy. A major international investor in Sri Lanka, with an investment of $ 0.4 billion to develop Sapphire Residences and ITC One Hotel at Galle Face, the company is gearing up to create and catalyse over 1,200 jobs and support over 200 local businesses when operational after completion. Despite the challenges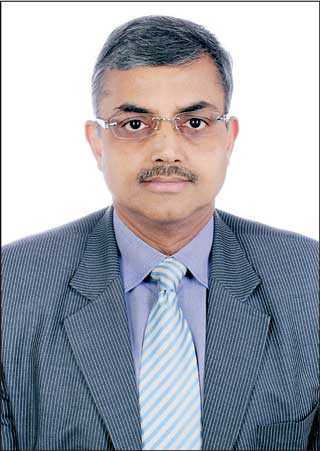 WelcomHotels Lanka Managing Director Arun Pathak
ahead, Pathak strikes an optimistic tone for rebuilding the nation and rejuvenating the economy. Following are excerpts:
Q: How do you see the impact on the Sri Lanka real estate industry from the setbacks posed by the COVID-19 pandemic?
A: We applaud all the steps that the country has taken to control the pandemic. The real estate market has certainly been negatively affected, not least due to the cessation of construction and shutdown of related business activities, but I believe this pause can be used constructively to recalibrate the sector. To boost business confidence, Sri Lanka's construction industry will need Government support and incentives to get back on track quickly.

Developing real estate market in prime business and residential areas will drive urban resurgence and economic renewal and will therefore continue to be an attractive investment option for investors. Ultimately, the country offers a strong investment value proposition and I expect this to play an important role in underpinning the nation's economic and real estate sector recovery.
Q: What actions did WelcomHotels take during this lockdown period?
A: We take our social and economic responsibilities very seriously. Everyone in our team has been adversely impacted to some degree by the pandemic, so it is important that we play our part in helping to alleviate the pressure on them. As such, during this lockdown period we have continued to support the livelihoods of our workforce, as well as honouring commitments and payments to our numerous suppliers.
Q: Keeping in mind social distancing and hygiene requirements, can you describe the precautionary measures you will take onsite for workers/visitors?
A: Since the onset of the COVID-19 pandemic, WelcomHotels has complied closely with prevention and safety measures recommended by the Ministry of Health and the Government of Sri Lanka. Well before construction recommenced on 11 May 2020, we had already put in place appropriate health and hygiene protocols to ensure physical distancing of staff, thermal screening, medical checks, hand hygiene, wearing of masks and frequent disinfection and sanitisation of public spaces to protect our employees and visitors. Our guidelines even cover transportation of staff and safety measures to be taken by employees on returning home. Additionally, our parent company ITC has developed comprehensive operational guidelines for its offices and hotels to ensure that every aspect is addressed to meet best health advice standards and working practices.
Q: How do you see the local economy and the local construction sector panning out over the rest of 2020?
A: The local economy is slowly easing out of lockdown and businesses become accustomed to operating under new rules and regulations to mitigate the spread of the coronavirus. However, rating agencies have acknowledged that GDP growth for Sri Lanka in 2020 will be lower than previously forecasted, although economic growth was already weak since the Easter Sunday attacks last year and it has been further impacted by the pandemic this year. The knock-on effect will perhaps be felt by major infrastructure projects, but I expect private sector projects with strong financial fundamentals to resume construction at a rapid pace to make up for the lost time. Projects with robust financial backing, such as Sapphire Residences, are well positioned to recover faster than most.

Moreover, as construction gets back into full swing, WelcomHotels is able to fulfil its commitment to invest $ 0.4 billion, creating over 1,200 jobs, and supporting over 200 local businesses to help the nation move forward. The positive economic value from our investment, and others like us, will play a small but vital role towards economic recovery at a time when the nation needs it most.
Q: Considering the devastation of economies and personal fortunes, do you feel buyers would rather invest in real estate as a hedge against economic and financial uncertainty in other investments?
A: The pandemic has severely impacted global financial markets, with investors directly feeling the brunt. However, homeowners have not seen any comparable adverse impact on their property values. Home ownership will never lose its appeal; in fact, demand is on an upward trend and, in times of crisis, property investment becomes more pronounced because it offers a safe haven to investors – a 'flight to safety'.

As far as WelcomHotels is concerned, Sapphire Residences caters to the High Net Worth Investor segment, which is arguably less likely to be severely impacted economically by the pandemic; as such we anticipate that, once the situation stabilises, the demand for luxury property will rebound, as indeed we are seeing on other global markets. With the pressure on people's time and energy, shrinking urban spaces and ongoing maintenance and upkeep of standalone houses, increasingly the convenience, security and lifestyle benefits of living in high rise residential buildings offer a very attractive option.

Furthermore, as foreign investor and diaspora sentiment is expected to pick up, not least as people re-evaluate their lives as a consequence of the pandemic and consider buying a home in a safe and salubrious environment. We believe that, after experiencing lockdown, Sri Lanka's numerous lifestyle and investment attractions, combined with Sapphire Residences' 'Splendor Of Gracious Living' proposition and the parent company's legacy of proven commitment to sustainability, personal safety and hygiene, are just what high-end home buyers need as a soothing remedy! As such, the development is being promoted internationally, which should open up more opportunities than projects that are targeting only the local market.
Q: The development is described as 'an icon' that is destined to become a landmark for Colombo on the global stage. What are the key features that differentiate it from the other new luxury residences in the city?
A: There are many unique elements that combine to elevate this development above other projects in Colombo, but I will highlight some of the principal ones that make it stand out:

To create a landmark as the region's most sustainable luxury complex, leading companies around the world covering architecture, engineering, interior design, security, landscaping, marketing and sales were approached, from which a world-class team of global experts was assembled.

This includes the world's most revered living designer Philippe Starck (Paris) working with YOO (London), Gensler (Los Angeles), Thornton Tomasetti (New York), L&T (India/Sri Lanka), Sterling (India), Control Risks (India), Design Wilkes (Malaysia), Meinhardt Façade (India), Burega Farnell (Singapore) and Sotheby's International Realty (global sales).

The most visually impactful aspect is the Ahasa One Sky Bridge. The first of its kind in South Asia and destined to be one of Colombo's most distinctive landmarks, it will have two infinity pools and a sun deck on top and a luxurious jazz lounge and bar within. Its exterior glass facade gives spectacular dual-panoramic views over the Indian Ocean, Beira Lake and the city.

Sustainability is now widely regarded as a critical ingredient that consumers increasingly demand, due to the rising awareness about the serious threats to the environment and a desire to source services from ethical companies. In line with this trend, our parent company ITC has for a long time now been at the forefront as a pioneer in sustainable luxury. Both Sapphire Residences and ITC One Hotel have been meticulously designed around the company's philosophy of 'Responsible Luxury'.

Going far beyond mere compliance to standard regulations, Sapphire Residences has already achieved the prestigious LEED BD+C (Core and Shell Development) pre-certification rating at the highest Platinum level, making these apartments the 'greenest' luxury residences in Colombo. Apart from the strong global ITC Hotels brand recognition, this is an important differentiator in the market.

A growing trend among wealthy homeowners is for vertical living, where families can enjoy modern condominium living in spacious apartments. This is why Sapphire Residences offers some of the largest apartments ever seen in South Asia, averaging around 5,500 sq. ft. These 'Sky Mansions' are designed to enable whole families – and, if required, their staff - to live in unrestricted comfort, enjoying similar spaces that they would have in a standalone home or villa, but with the added benefit and convenience of over 40,000 sq. ft. of leisure and social facilities at their doorstep.

All of which is underpinned by the exceptional five-star hospitality services that will be delivered by the super luxury ITC Hotel to residents, guests and visitors to both Sapphire Residences and ITC One Hotel.
Q: In terms of market sentiment, what is the feedback from existing and potential customers?
A: Apart from the worries about when the pandemic will end, customers across the board are re-evaluating their investments to ensure their choices are cushioned from adverse fallout. Existing investors in Sapphire Residences feel secure about their investment since it is a WelcomHotels project from a Company owned 100% by ITC Ltd., a corporate powerhouse and reputed brand name in India. Despite the fact that construction came to a halt during the lockdown period, investors did not express any major concerns, secure in the knowledge of our deep commitment to Sri Lanka.

As a new high-end luxury project, potential buyers understand that Sapphire Residences is a stand-out project in the South Asian real estate luxury market. The value propositions are so unique that savvy global investors who own several luxury properties around the world acknowledge the superior lifestyle in Sapphire Residences.
Q: How do you see the road ahead for the Colombo real estate market?
A: With better capital appreciation prospects than, for example, Dubai and other Middle East destinations where prices have been in decline for some time, Sri Lanka is emerging as one of the most attractive real estate investment destinations in South Asia. Only last year Global Property Guide described Sri Lanka one of the region's most promising destinations.
Q: Given the impact of the lockdown period when can we expect the project to be completed?
A: We remain 100% focused and committed to delivering the project as fast as humanly possible. Of course, given the major impact of the pandemic both domestically and globally, we are busy recalibrating the timetable in order to make up for the lost time and ensure that our program remains as timely as possible. Fortunately, we have made excellent progress, having already completed the main construction components including the 224-metre high residential tower, the Ahasa One Sky Bridge, and a major part of the 140-metre ITC One hotel super structure.