This year has thus far seen a new improvement in Samson Rajarata Tiles Ltd.'s international collaboration movements. By entering into a partnership with French terracotta building material manufacturer, Terreal, Samson Rajarata Tiles has expanded its product range and introduced several new items and designs to the local market.

Boasting more than 160 years of experience in the industry, Terreal is a renowned brand when it comes to terracotta building materials. Based on their many years of experience, Terreal design, produce and market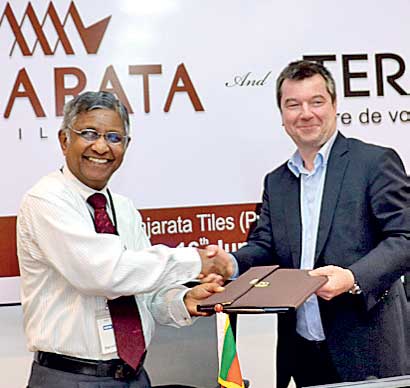 innovative solutions for the building envelope, via four activities: roofing, facade, structure and decoration. The company enjoys a turnover of Euro 336 million and is made up of over 2,250 employees worldwide.

A subsidiary of Sri Lanka's largest family-owned conglomerate, the DSI Samson Group, Samson Rajarata Tiles specialises in varied clay roof tiles and clay roof sheet designs. Samson Rajarata products are recognised across the globe and are manufactured to meet the highest of international standards. The product ranges offer clientele a collection of robust and aesthetically pleasing clay tiles and roof sheets that are fit for a tropical climate.

The official signing of the MOU took place recently at the office of D. Samson & Sons Ltd. Representing Samson Rajarata Tiles was DSI Samson Group Group Managing Director Kulatunga Rajapaksa while Chief Executive Officer Laurent Musy signed the MOU on behalf of Terreal Group. The new partnership of Samson Rajarata and Terreal promises to introduce new and innovative styles of building designs to both the local and international markets.

"Samson Rajarata products are renowned worldwide for their excellent quality and unparalleled strength. We are currently in business with the United Kingdom and India, thus it gives us great pleasure to add France to our list of partners as well. As a company that has been a part of the industry for over one hundred and sixty years, Terreal products are made up of more than a century's worth of experience and innovation and we at Samson Rajarata consider ourselves most fortunate to be in partnership with such a prestigious organisation," stated Rajapaksa.

"For over 160 years, Terreal has been a name that is synonymous with the terracotta tradition. Today thanks to our partnership with Samson Rajarata Tiles, Terreal will now have a stable footing in Sri Lanka. It is our hope that the MOU signed today will be the foundation of a strong and mutually beneficial partnership," stated Musy.