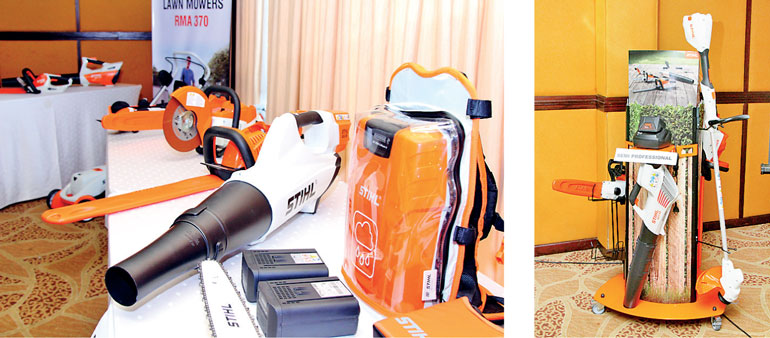 A range of environment friendly, battery powered outdoor tools were recently launched by Figaro Ltd. at Water's Edge, Battaramulla.

The range of tools made in Germany by Andreas Stihl based on their 'GO Green' concept includes bush cutters, hedge trimmers, blowers, concrete cutters and chainsaws. Figaro is the authorised distributor for Andreas Stihl products in Sri Lanka. The tools specially designed for environment friendly outdoor usage are powered by batteries and will be efficient and effective option for small and large scale garden maintenance, construction works and cleaning services.

STIHL is a world leading brand in outdoor power tools mainly for chain saws and brush cutters. Apart from battery products new entry level electric chain saws are also launched. The launching ceremony was held with the participation of Andreas Stihl Germany's representatives, its South Asian fully owned subsidiary's directors and representatives, directors and officers of Figaro Ltd, sales dealers and customers. The environments friendly Stihl power tools are available with Figaro sales dealers island wide for competitive prices.

Speaking at the launch, Parind Prabhudesai, Managing Director for Stihl South Asia, said: "STIHL has successfully launched different battery products across the Asian market. Sri Lanka being a developing country has lot of potential for hand held power tools. We have a strong foundation laid by Figaro and now have plans to expand the business across Sri Lanka through our servicing dealers. We will continue to invest in all three categories of Electric, Gasoline and Battery technology.

Sharing his views, Peter Wesner, Manager-Middle East and India-Andreas STIHL AG & Co. KG, Germany, said, "Sri Lanka has become one of the growing potential markets for STIHL. The management is committed to invest more in terms of presence, service and new products into this market.