Partners with world-renowned CHANCE Foundation Solutions in the USA to uplift the local construction industry
St. Theresa Industries (STI) Holdings, the leading manufacturer of steel fabrication and accessories used for power generation, transmission and distribution in Sri Lanka, today announced the introduction of helical anchoring, an innovative, extendable deep foundation system, in Sri Lanka.

With the partnership of CHANCE Foundation Solutions in the US, the international leader in earth anchoring, STI Holdings aims to bring this superior technology to elevate the fast-growing local construction industry. STI Holdings has been working with CHANCE Foundation Solutions' parent company Hubbell Power Systems (HPS), a global manufacturer of products that support the delivery of power, in bringing mission-critical infrastructure and products to Sri Lanka.

A technology with a 100 year history, helical anchors are used worldwide for residential and light commercial and heavy commercial construction, machinery or equipment foundations, telecommunication and transmission towers and virtually any application where site access is limited or remote. The technology has become the deep foundation of choice for walkways and boardwalks in environmentally sensitive areas, such as wetlands and protected forestland. In expansive soil areas, helical anchoring can save money and time when compared to expensive over-excavation and fill options.

STI Holdings will first introduce helical anchoring to Ceylon Electricity Board (CEB) as part of a technology transfer initiative. With the introduction of this technology, a CEB transmission tower can be installed within six to seven days, which presently takes 21 days to set up the foundation of the tower.

Commenting about STI Holdings' unique initiative, Founder and Managing Director Colin Fernando said: "Helical anchors are commonly selected for earth anchoring applications because they are quick to install and can be proof-tested and loaded immediately with no concrete to cure or de-watering of the excavation to deal with. This anchoring system is being used in the US, Europe, Australia and in other countries as a successful method of laying a foundation. This technology, which contributes towards minimising the lead-time in power transmission projects drastically, takes less than 15 minutes to place one anchor into the ground unlike traditional civil foundation, which requires a number of weeks for curing."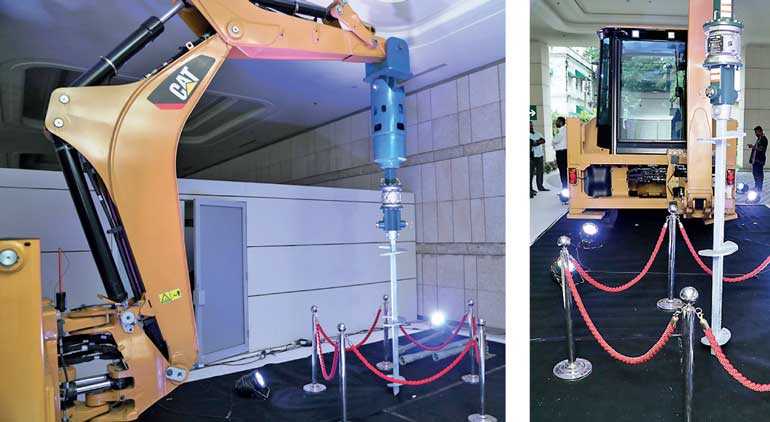 "It is encouraging to see that a number of government organisations we engage with have opened up avenues for us to introduce helical anchoring in Sri Lanka and help strengthen Sri Lanka's economy through efficient and cost-effective projects that could be created through the usage of these superior products and technologies," Fernando commented further.

Since the early 1960's, Chance Helical Anchors by HPS have been used in the electric transmission industry and today, these anchors are finding increased popularity in civil construction applications because of the versatility and cost-effectiveness of this uplift restraint solution. "The technology we are introducing today is not novel across the globe. However, they have been and proven to have excellent performance in most parts of the world and the users of it tend to be immensely happy about the performance of these systems as well. These helical anchoring systems have been used not just to construct simple structures but also for building mega projects like 10,000 KM tower lines running through the Amazon forest to giant network cables deep under the seabed," said STI Holdings Technical Management Director Madusanka Fernando.

With its rapid development, the global construction industry is expected to bring unprecedented value for people, thus, the future of Sri Lanka's construction industry looks promising with emerging opportunities to create remarkable structures. STI Holdings firmly believes that local stakeholders of the construction industry will embrace a tested and proven technology like helical anchoring to minimise project cost and time drastically.