Panoramic view from the 37th Floor of Prime Grand, Ward Place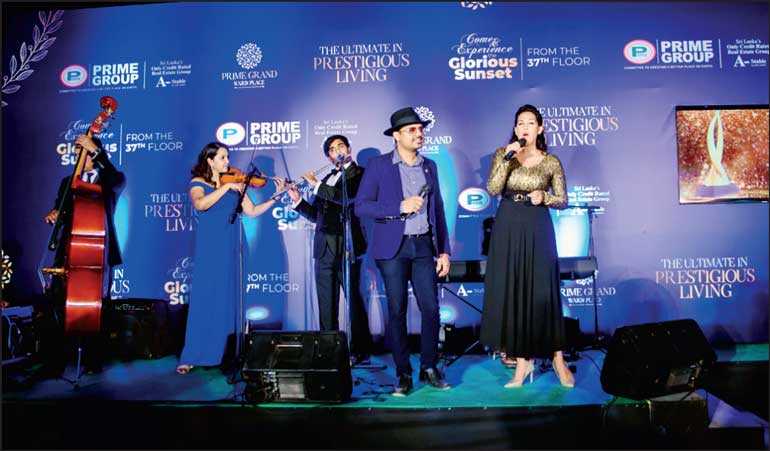 Stephanie Siriwardhana and Dushyanth Weeraman performing at the event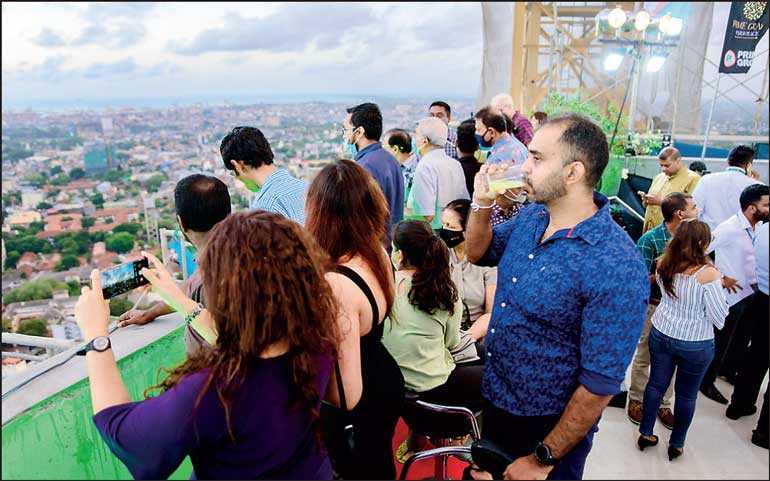 Guests watching the sunset from the 37th floor of Prime Grand, Ward Place
---
First and only high-rise standing at 160m in Colombo 07
332 ultra-luxury, private residences spread across 37 storeys
Prime Grand, the flagship ultra-luxury condominium project of Sri Lanka's premier property developer Prime Group, recently unveiled its 37th floor to a highly exclusive gathering at its premises. The award-winning 160m tall residential tower, set to be the only high-rise in the most sought-after neighbourhood of Colombo 07; will redefine the city's skyline while introducing a rare collection of exquisite two- to four-bedroom ultra-luxury, private residences unlike any other in the country.

The project is slated for completion in the second quarter of 2022.

Graced by the presence of a highly select list of prospective buyers, guests were able to take in the uninterrupted, breath-taking vistas offered at the 37th floor and experience the ambience and spectre of its masterfully designed architecture over an experiential evening set against a spectacular sunset.

They were also treated to the rare opportunity to seek the expertise of Prime's highly experienced engineering and legal teams, as well as trusted finance partners, to a bid to provide a 360 degree experience in a single setting.

Commenting on the Group's latest initiative, Chairman Premalal Brahmanage said: "Prime Group has always been extremely agile in operation and in addressing fast-evolving consumer needs, with innovative thinking at the fore."

"Unveiling the 37th floor of Prime Grand's game-changing, ultra-luxury living space is the culmination of this winning mentality and hard work. We are glad to say that this event afforded prospective buyers the unique opportunity to not only experience the premises and the breath-taking views from the top, but also to dissolve all their legal, financial and engineering queries in one setting.

"We truly believe Prime Grand offers an once-in-a-lifetime, generational opportunity to invest in a prestigious asset at Colombo's most prized address, a scarce commodity that cannot be replicated."

Meticulously designed over 40,000 Sq. ft. to maximize city views, the building draws inspiration from its natural surroundings using timeless, high-quality materials; captivating colour palettes and sustainable design.

Prime Grand's offering of 332 simplex and duplex condominium residences are complemented by four stories of double height parking, where one residence is allotted a minimum of two parking slots, and three levels of curated indoor and outdoor services and amenities.

With well-appointed interiors, these residences will debut the finest, flooring and kitchen finishes coupled with modern home automation technology, access controlled elevators, and smart door locks with access card systems to ensure comfort and security for its residents.

Each residence will also be allotted two car spaces and charging bays for electric vehicles. A more prominent, defining feature of the entire structure is its availability of privacy cavities placed between every apartment, guaranteeing utmost privacy for each resident and the seclusion of living in a detached home.

The ultra-luxury tower will also feature a 71-meter infinity pool at a height of over 125m, the longest elevated infinity pool in Sri Lanka affording expansive views of the breath-taking Colombo skyline, to be enjoyed alongside a Sky Bar and restaurant.

In a bid to preserve a sense of community, residents also have exclusive access to a sprawling recreational area, comprising a state-of-the-art gym, a 36-meter pool, a children's pool and play area, a world class spa, badminton court, and a multifunctional hall, mini-mart and a day care centre, among others, among others. At Prime Grand, luxury is truly king and privacy is paramount.