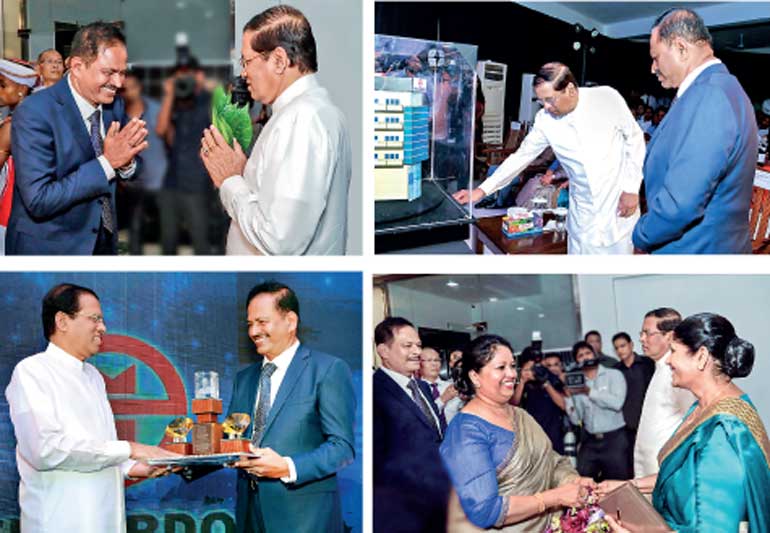 Elcardo unveiled its new building at No. 42, Narahenpita Road, Nawala with President Maithripala Sirisena as the Chief Guest on 28 August to mark their four decades of success followed by cocktails.

The company also felicitated 16 staff who has served the company more than 10 years.

Elcardo's journey commenced humbly in 1985 with a team of five people. Today, Elcardo is one of Sri Lanka's own brands, synonymous with trust and excellence.

Elcardo has many products that have been innovated by its resourceful workforce under the aegis of its Chairman Athula Rohan Weeraratne.

The company manufactures sectional overhead doors, zinc coated and colour bonded roller doors, roller shutters, swing and sliding gates, gutters, colour bonded and non-colour zinc alum roofing sheets, wpc wood decking , GI and stainless steel pipes and box tubes, nuestone pantry tops, galvanised and black iron "c" purlings in its building supplies range.

In addition, Elcardo has branched out to cater for the hospitality industry and other vital economic sectors supplying stainless steel fabricated products and kitchen equipments. Its newest additions is partnering with Oppein Pantry cupboards for luxury living, Solar with Australian Technology and Kito Tiles.

A key reason behind the success of Elcardo is its sustainable business conduct generating prosperity for its stakeholders. The company contributes to saving valuable foreign exchange by sourcing most of the raw materials for its productions locally. Creation of indirect earning opportunities for around 5000 persons, in addition to its regular workforce is something Elcardo is extremely proud of. Employment by small time subcontractors, who carry out jobs for Elcardo also count around 4,000.

Elcardo was accredited with ISO 9001-2002and ISO 9001-2008, ISO 9000-2009, ISO 9000-2010, ISO 9000-2011, ISO 9000-2012 respectively nationally and internationally in recognition of the quality and the services that they have rendered to its valuable customers.