Overseas Realty (Ceylon) Plc has recorded a Group revenue of Rs. 4.435 billion for 2017, an increase of 79% over the previous year. The Group's gross profit increased by 42% to Rs. 2.35 billion.

The Group profit before tax grew by 26% to Rs. 3.756 billion and Group profit after tax grew by 8% to Rs. 3.173 billion. The Group profit after tax was subject to a provision for deferred tax of Rs. 506 million on the company's investment property and owner occupied property as per the provisions of the new Inland Revenue Act.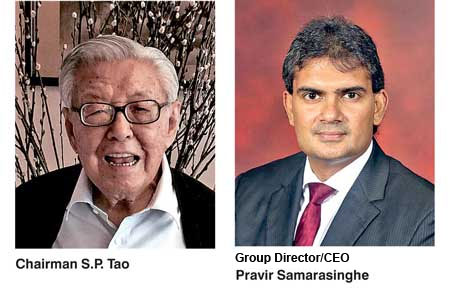 "I am a fervent believer that the property market is the most dynamic enterprise in any leading city in the world and its development tracks a country's social and economic success. Having personally witnessed considerable changes regionally and globally over so many decades. I am even more bullish on the growth momentum of Sri Lanka. Consequently, I am very condiment of the development plans and prospects for your company," stated Overseas Realty (Ceylon) PLC Chairman S.P. Tao at the completion of another successful financial year.

Revenue of Rs. 2.090 billion was recorded from property leasing at the World Trade Center (WTC) Colombo, an increase of 11% in comparison with last year. Gross profit from property leasing of the WTC Colombo was Rs. 1.597 billion, an increase of 8% over the previous year.

The company is in the process of refurbishing and upgrading its common facilities with the intention of providing a better service to the owners, occupants and visitors of the building whilst maintaining good occupancy levels during 2018.

Revenue of Rs. 1.935 billion was recognised from apartment sales of Havelock City Phase 3 during the year compared to Rs. 285 million in 2016. The resulting gross profit from apartment sale was Rs. 628 m, compared to Rs. 125 m of the previous year.

Phase 3 comprising two towers, Stratford and Melford, with 304 luxury apartments is currently under construction with over 35% competed and is expected to be handed over by mid-2019. Phase 4 which is also under construction comprising two more towers, Peterson and Edmonton, with 340 luxury apartments is expected to be completed by mid- 2020. Over 50% of Havelock City Phase 3 apartments have been pre-sold at the end of 2017.

Further, Havelock City Sri Lanka's first and largest fully integrated mixed-use real estate space being developed comprise a commercial complex with an iconic 50-storey office tower and a community level shopping mall servicing the lifestyle needs of the catchment. This further broadens the Group's long-term asset base with a recurring rental income stream. The construction is expected to be completed by April 2021.

Revenue of Realty Management Services Ltd. increased by 19% to Rs. 267 million in 2017 compared to Rs. 225 million last year. The gross profit of RMS increased to Rs. 65 million in 2017 compared to Rs. 46 million in 2016.

RMS is the leading real estate service provider in Sri Lanka with more than 7.5 m sqft of prime commercial and residential properties under its management. RMS is also the exclusive distributor for NVC Lighting China and Faro Barcelona offering a wide range of lighting solutions for the Sri Lankan Market.

The Group net asset value per share as at 31 December 2017 stood at Rs. 29.94 and the Earnings per Share for the period stood at Rs. 2.59. The Directors have recommended the payment of a first and final dividend of Rs. 1.25 per ordinary share for the Financial Year ended 31 December 2017.