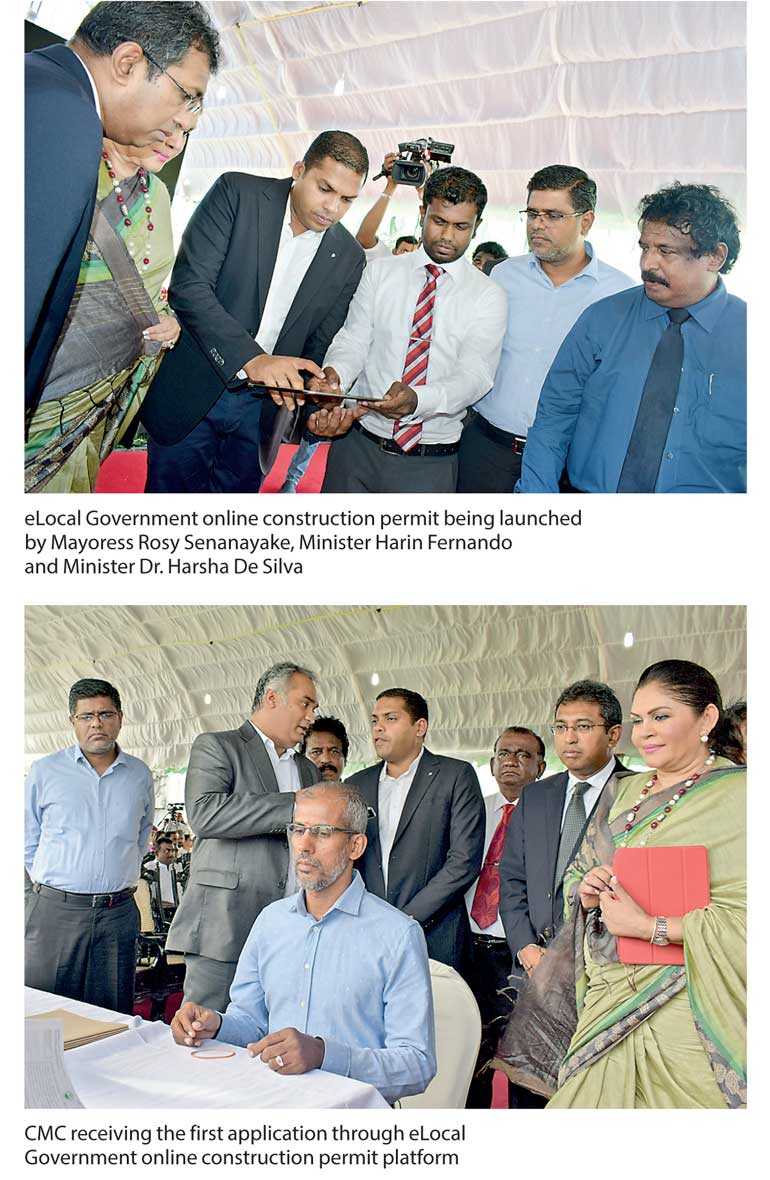 Permit within fortnight
Only two visits to CMC
Coordination via SMS
Achieving a greatest milestone of the eLocal Government Programme, the online construction permit issuance platform was launched for Colombo Municipal Council (CMC) on 21 August with the presence of Telecommunication Minister Harin Fernando, State Minister of National Policies and Economic Affairs Harsha De Silva and Colombo Municipal Council Mayoress Rosy Senanayake.

Citizens will be benefited by this service with the ease of obtaining a constriction permit within two weeks without going through the conventional cumbersome process.Also the system provide the sophistication of getting SMS notification and live status checking of the application status including site visits scheduled prior.

In 2010, Ministry of Local Government requested ICTA to support to understand the Local Authorities functions and streamline to better serve the citizens. The Information and Communication Technology Agency of Sri Lanka (ICTA) embarked on an initiative called eLocal Government (eLG) program with the re-engineering of the processes as the first exercise.

The project aimed at making the service by Local Government authorities people-friendly, effective and efficient through the use of ICT. Currently with the mandate given by the Ministry of Local Government and Provincial Councils, ICTA has initiated this implementation in 80 local authorities across the island.

The project is helping to automate local authorities' day to day activities in a streamlined manner. This solution will reduce customer hanging time, long queues, increased security of data, easy retrieval of data, reduction in employee workloads and online payments and online application processing with status updates. As a result of the project total number of 341 local authorities will be benefitted.

As Minister Fernando stated: "Today we are marking this digital transformation from Colombo and will be extending to cover 341 Local Authorities across the country by 2019 through the eLocal Government project."

Looking at the bigger picture, ease of getting a construction permit is a prominent indicator of Doing Business Index which will immensely help to attract foreign investors to the country. There is a clear perdition that Sri Lanka's Doing Business Index (DBI) will take a leap with this disruption.

The Doing Business Project provides objective measures of business regulations and their enforcement across 189 economies and selected cities at the subnational and regional level.

Senanayake stated: "It is a well-known fact that citizens has to wait seven to eight months to obtain a Constructing Permit and waste considerable time in Local Authorities because of the poor service delivery and this will be a historical day which we able to put a stop for that with the aid of technology."

ICTA Programme Manager Thusha Mukunthan stated: "This is the major milestone in the eLG program and moreover this would place Sri Lanka in a better position in the investor's world map."

This marks the ICTA's commendable contribution towards the country's journey towards digital economy.