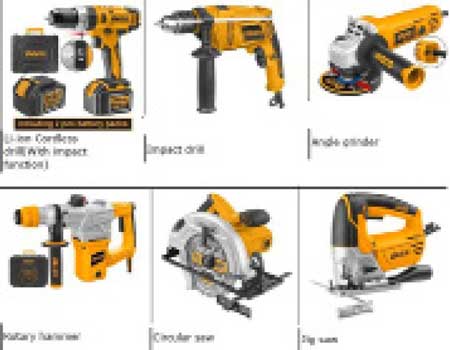 Ingco, a world renowned brand when it comes to industrial power tools and accessories, is making lives easier for artisans in various constructing, building and manufacturing fields in Sri Lanka as well as around the globe.

Pamankada Group of Companies is the sole importer and retailer of the professional and affordable high quality Ingco industrial tools in the country. The world class Ingco products are manufactured at the state-of-the-art Ingco plant based in China.

Meeting the demands of even the most rigorous jobs, the comprehensive Ingco range provides wired and cordless drills, saws, drills, grinders, hammers and many more world class products and accessories.

Its latest product range is power-packed and comes with affordable price tags.

The Lithium Ion Cordless Drill with Hammer (CIDLI228180) is priced at Rs. 16,000 while the Ingco Impact Drill (ID6528) with a maximum drilling capacity of 13mm can be bought at a maximum retail price of Rs. 3,450. The RH10508 Rotary Hammer comes with a price tag of Rs. 7,950. Industrial Angle Grinders with two different disc diameters (model number AG8006-2/AG8006) are both priced at Rs. 3,550. The power-packed Ingco industrial Jig Saw (JS80028) is sold at Rs. 4,750 while you can own your own industrial Circular Saw with a blade diameter of 185cm (CS18528) for just Rs. 7,050 from Pamankada Group.

All Ingco power tools brought in by Pamankada Group are innovated by Ingco and patented, so the users can experience the uniqueness of these world class products which are sold at most affordable prices in their respective categories.

Ingco products are known for their top quality which refers to not only function, usability and appearance, but also efficiency, performance, maintainability and most importantly, the affordability. The award winning Ingco products have been designed with great attention to every detail, making the brand and its tools stand on the top of the world.

Pamankada Group is devoted to carry the brand's legacy forward, coinciding with Ingco's motto, put quite simply, "affordable professional tools with outstanding after sales service."

Ingcois in constant pursuit of its vision of becoming a reliable brand in Sri Lanka and has already made an impact in the construction sector thanks to its quality and outstanding after-sales services provided by the Pamankada Group of Companies, based at number 86/B, Pamankada Road, Colombo 6.