---
An award winning premier contractor, International Construction Consortium Ltd. (ICC) commenced 'sunset cocktails' at its newest residential property Oceanfront Condominiums Galle over the weekend, allowing their investors to firsthand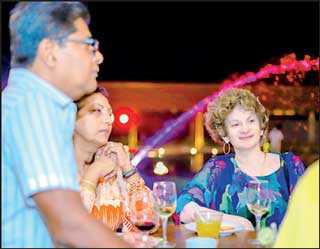 experience the finesse and the luxe of the property.

Home owners were invited to Oceanfront Galle over the weekend (3-4 April) for them to inspect on the construction progress and to have a look and feel of the apartment complex that would be officially handed over in coming months. Spelling class and elegance from the very first step into the building, homeowners were given the opportunity to witness the plethora of benefits they would reap for investing in OFC Galle in every sense.

On entering the property, visitors are able to have a sense of what life at sea would be with the spiral wooden staircase at the lobby mimicking a sail ship mast leading to the lush open courtyard that provides a panoramic view of the open sea via the grand Dutch arch, all which resonate historic vibes of the rich city of Galle.

Capitalising on Galle's glorious blue waters, ICC has tastefully conceptualised Oceanfront Condominium to have a view of the clear ocean from all possible angles. The unique 16th century Dutch inspired architecture transforms the property into a mini-fortress within itself that is embraced by the clear sea.

The event also provided a glimpse of what living at the luxury Oceanfront Condominium would be while letting homeowners to witnessing the sunset from all of the 101 apartments spread across 15 floors, Sunset Restaurant and the majestic Dutch Arch, which is a standout feature of the property. Some of the other features include a double floored spa and a fully equipped gym.

Oceanfront Galle structure constructions were done on time, even with the restrictions imposed by the authorities on imports and labor management to contain the COVID-19 pandemic. Nevertheless, ICC has taken the necessary initiatives to speed up the process and will be applying for COC in the beginning of June.