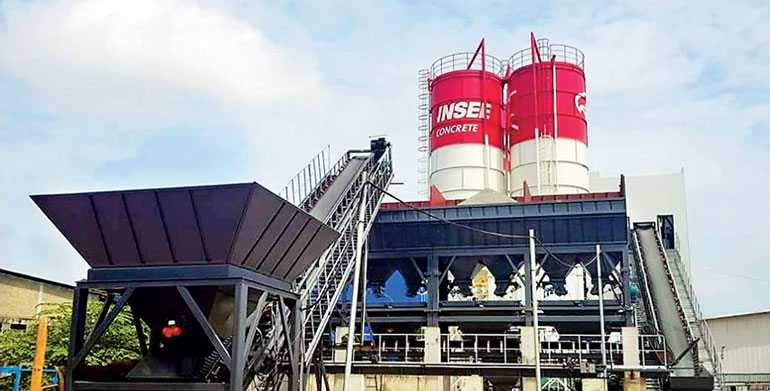 Today's ready-mixed cement industry in Sri Lanka primarily pivots on building contractors who unfortunately do not have the required skills to provide a high quality customised solution to home builders.

This is where INSEE steps in. INSEE Cement Sri Lanka the country's reputed cement manufacturer of INSEE Sanstha Cement has launched an ambitious initiative to fill this gap with innovative solutions that go beyond traditional ready-mix.

"We are perhaps the only cement manufacturer in the country to launch 'Forward Integration' in contrast to Backward Integration that many companies are engaged in, to promote sustainable development endeavours. In other words, without simply offering commodity products, we have an array of solution-based concrete and are able to design our portfolio of products to meet different application needs of builders and contractors," explained INSEE Concrete General Manager Nandana Amunuthuduwa.

The company's concrete arm, INSEE Concrete provides customised concrete and cement solutions developed with the best technical expertise designed to transform Colombo city's rapidly emerging new landscape using innovative solutions that go beyond traditional ready-mixes, to build brighter futures for the nation while safeguarding the environment.

The ready-mixed INSEE Cement will be produced in a state-of-the-art manufacturing facility under construction in the busy industrial complex in Peliyagoda. It is an eco-friendly, zero-waste discharge plant with a reclaimer that reuses aggregates and water.

INSEE Concrete's widest portfolio of six ready-mixed cement solutions are designed to meet the requirements of all segments in the building industry. As significant is the relocation and revamp of the INSEE Innovation and Application (I&A) Centre. The I&A Centre headed by the world-renowned expert Dr. Moussa Baalbaki will assure the high-quality consistency of every concrete produced by the plant and delivered to market and continuously develop new products and solutions for the industry. With state-of-the-art research facilities, it also acts as an open space to engage effective collaboration and Innovation with industry partners and stakeholders. Together, they will boost the construction industry by developing ground breaking Innovative and sustainable products and solutions.

The company is confident that it would be able to meet the emerging needs of the country expected to expand the building industry by 25% in the next two years. INSEE Cement's ready-mixed product range ensures durability, strength and a carbon footprint that emphasises the company's environment friendly stance while moving away from conventional commodity products. "We have a distinctive competitive edge over contractors because technology is not their core advantage. We are able to provide a high quality total solution to the customers, and more importantly we have the facilities to monitor, test and ensure the necessary parameters are met where quality standards are concerned," stated Amunuthuduwa.

With the launch of ready mix cement portfolio, INSEE Cement will be equipped to market a variety of value added applications that have been researched and developed to meet emerging customer expectations. The range includes high performance concrete, high early strength concrete, self-compacting concrete, green concrete, pervious concrete, mass pouring concrete and value added solutions for house-builders.

INSEE Concrete annually produces more than 8 million cubic metres of concrete in over 250 INSEE Concrete Plants in Thailand and Vietnam. Amunuthuduwa said the local operation will benefit from such vast technical expertise, enabling them to develop customised concrete solutions that meet specific project requirements.

With the ability to cater to all industry segments, INSEE promotes sustainable and high performing concrete solutions. These are customised and benchmarked against the highest global standards in quality. With the planned expansion, their immense experience and technical expertise will help transform Sri Lanka's construction industry.