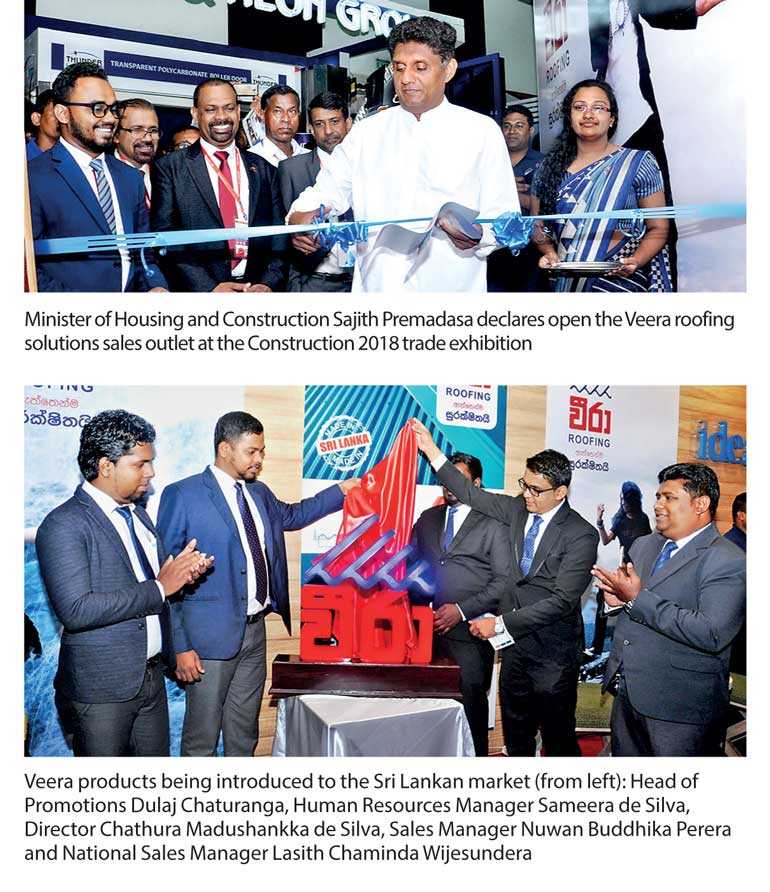 Idea Group of Companies that offered Sri Lankan consumers revolutionary, environmental friendly roofing products unveiled its newest innovative roofing product branded as 'Veera'.

Veera product was unveiled at the Idea Group's stall at the 'Construction – 2018' trade exhibition held at the Sirimavo Bandaranaike Memorial Hall recently.

The Veera product with the pay off line, 'Absolutely Safe' is a 100% Sri Lankan product that perfectly blends with diverse climatic conditions in the country.

The product has guaranteed safety attributes and durability. The outer layer of Veera sheet is made with ASA (Acrylonitrile Styrene Acrylate) that offers heavy resistance to sunlight and maintains coolness inside the house.

Veera roofing sheet is made with wavy shape to look like asbestos sheets. Yet it does not contain attributes that stimulate cancer and also doesn't contain Lead (Pb) thus consumers can confidently use Veera for houses they build for them and their loved ones.

According to the requirement of the users Veera products can be obtained in Brick Red, Dark Brown and Dark Green colours. Veera comes in different lengths as six, eight, ten and twelve feet. It can also be ordered to any length the customer requires.

Having a thickness of 2.8 millimetres, Veera product is 980 millimetres in width. It consists of three layers and the weight of one square foot is 400 grams.

Veera roofing solutions is endowed with the ISO 9001:2015 international standard certification. It is the only product manufactured within the country using original LG ASA. Further, with each Veera product, a quality certificate is offered endorsing its attribute of original ASA.

Idea Group of Companies Sales Manager Nuwan Buddhika Perera speaking at the launch of Veera products said Idea Group constantly researches on requirements of Sri Lankan customers and caters to their roofing needs with innovative products.

"We have introduced Veera product to fulfil requirements of local customers who prefer wavy shaped roofing solutions for their roofs. The unmatched quality standard we maintain in all our products applies to Veera product as well. Veera products can be obtained from any hardware shop in the country," he said.