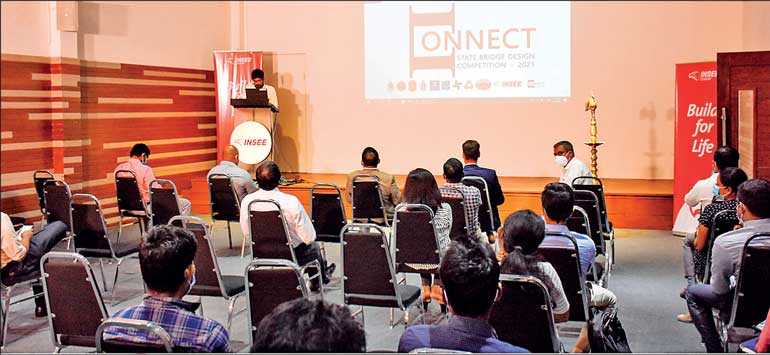 The launch of 'CONNECT – The State Bridge Design Competition 2021'
---
The State Bridge Design Competition 2021 a ground-breaking initiative
---
INSEE Cement, the largest and leading cement manufacturer in Sri Lanka, partnered with the State Ministry of Rural Roads and other Infrastructure to launch and promote 'Connect – The State Bridge Design Competition 2021'.

Connect is a ground-breaking initiative launched by the State Ministry to expedite its target of completing 2,000 rural bridges by the end of 2021 under the Rural Bridge Program. The competition will see proposals and presentations of innovative bridge designs and concepts to support the State Ministry's mandate of developing and modernising the rural road network and bridge system in Sri Lanka.

Connect will target rural bridges located outside the National Highways (Class A, B and E Roads). Competitors were encouraged to provide innovative solutions to the table. Constraints such as site accessibility, mobilisation of construction material and equipment, as well as feasibility were identified as some of the key issues that had hindered the development of rural-to-urban connectivity points such as bridges in the past.

"By introducing a more competitive approach to our Rural Bridge Program, we hope to attract creative school children, ambitious undergraduates, aspiring engineers and any individual or team with innovative ideas," commented State Ministry of Rural Roads and other Infrastructure Secretary Prof. Ranjith Dissanayake.

"Not only are we facilitating public stakeholder participation, we are also creating a sustainable platform for innovators to present ideas, and researchers to take their ideas to the industry. As the name of the competition suggests, we believe this will be a remarkable milestone in connecting the rural economy."

INSEE Cement supported this revolutionary initiative as assistance towards rural infrastructure development, and promoting knowledge dissemination are key focus areas of the company own mandate to drive transformation across the local construction sector.

The company also supports continuous innovation, the introduction of highly localised solution-based cement products, ready mix concrete and other building materials to meet the continuously evolving demands of Sri Lanka's urbanisation and construction industrial needs.

"Some of Sri Lanka's most iconic infrastructure projects and constructions bear the INSEE Cement name," stated INSEE Cement Executive Vice President of Sales, Marketing and Innovation Jan Kunigk. "Among them are highways, expressways and bridges. We partnered with the State Ministry of Rural Roads and other Infrastructure, understanding our responsibility as an industry leader to support the upgrading of Sri Lanka's road networks. From the Kallady Bridge stretching almost 300 meters, to a six meter bridge connecting rural Sri Lanka, INSEE Cement is proud to support a more sustainable, connected, and flourishing rural economy."

Interested participants can enter the competition under one of the following three specified categories; students can enter as teams or individuals with approval from the school principal under the School category, undergraduates of any discipline can compete under the University category, and other interested individuals or entities/organisations can enter from the Open category.

The maximum number of members in each team will be limited to seven. Phase one of the competition will be the idea submission followed by Phase two – the presentation. The top three participants/teams in each category will receive monetary prizes, with the best ideas selected for construction. For more information on how to can enter the Connect competition, visit https://connect.iabmas-srilanka.org/.