Oceanfront Condominiums Galle, the latest residential beachfront development of premier contractor International Construction Consortium (ICC) gives prospective homeowners an opportunity to experience the lifestyle with the unveiling of their model apartment.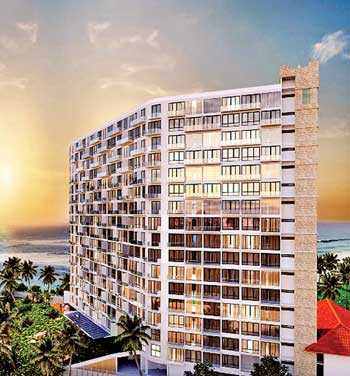 The Type-A model being one of the two most popular purchases among buyers was chosen for furnishing, and is located at the Courtyard Complex level of the property, allowing potential investors to truly experience the ambience.

Step in through the large timber doors for an instant view of the open sea, witnessed through the giant double-height sliding windows that open up to the main balcony. To the left is a modern and spacious kitchen with an abundance of cabinet and counter space to satisfy any master chef. The adjacent family dining room offers the same majestic view visible to the airy living room, spacious with its unique double-height ceiling. Each of the three bedrooms features attached bathrooms, perfect for privacy, whether it's a family getaway or friends sharing during vacations. The large master bedroom located on the upper floor is unique with a private balcony that opens up to the Indian Ocean. ICC has furnished the apartment to enhance the space factor by opting for a more simplistic theme, having used minimal and modern interiors. The use of white porcelain tiles across the unit and walls painted in light hues gives the sense of a relaxed beach lifestyle, exactly what a home owner wants to feel while on vacation.

The developer also offers turn-key furnishing for its buyers, along with complete management of their apartment; a hassle-free entry into the world of home rentals. ICC invites all prospective buyers to visit the model apartment and experience the ambience of Oceanfront Condominiums Galle.