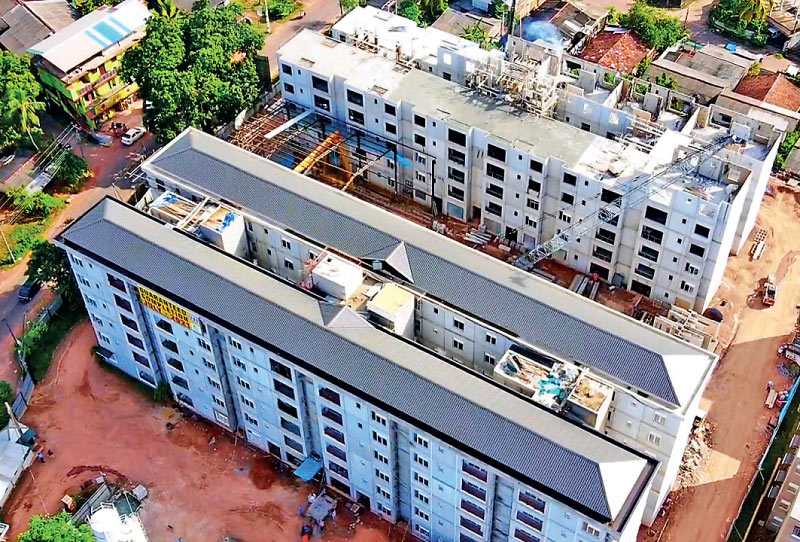 International Construction Consortium, one of Sri Lanka's leading contractors, has incorporated a friendly payment plan to their ongoing residential project Mount Clifford Residencies Homagama, an effort taken to allow potential home owners to procure prime properties in the condominium space.

Offering the entire urban living package for an unmatchable offer, investors are presented with a convenient payment scheme to purchase an 870 Sq Ft apartment that comes along with a series of facilities and amenities.

Apartments at Mount Clifford Residencies, Homagama consists of two bedrooms, two washrooms, of which one is en-suite, a living room, kitchen and a balconies that makes way for natural ventilation.

Spread over two towers rising up to six floors each on a two acres land, mount Clifford residencies entails facilities such as a well-equipped gymnasium, swimming pool, herbal garden, jogging track, relaxing area, community room and 24 hour security amongst others. Investors are now able to acquire the high Return on Investment (ROI) property through strategically structured and secured payment plan.

Reserving a unit with only Rs. 500,000, investors are given the flexibility to settle the balance payment in instalments. While the initial 30% of the payment can be made in three tranches, the balance 70% payment can be made in monthly instalments that would end within the construction period.

Acknowledging the challenging times that determined investors are faced with due to the impacts stemming from the pandemic, ICC with its decades of reputation as a trusted partner will arrange bank loans for all potential customers on request. If interested home owners wish to opt to settle the 70% payment via a bank loan, they are able to arrange needful by opting for financial assistance where the balance payment can be made over, five years, seven years, 10 years, or 15 with an exclusive interest rate.

Investing in Mount Clifford Residences, Homagama, affirms high ROI and high rental yield due to its strategic location. The complex is within close proximity to the Kottawa Southern Expressway and is easily accessible. It is also just minutes from University of Sri Jayewardenepura Faculty of Engineering, University of Moratuwa Institute of Technology, and the NSBM Green University amongst others.

Established in 1980, ICC has a strong position in the local construction space, recognised as one of Sri Lanka's leading building and civil engineering organisation that has a proven track record in developing projects for the public and private sector. So far ICC has completed over 3,000 housing units by completing 15 projects on time and successfully handed over to their clients, bonded with trust, quality and unmatchable service.