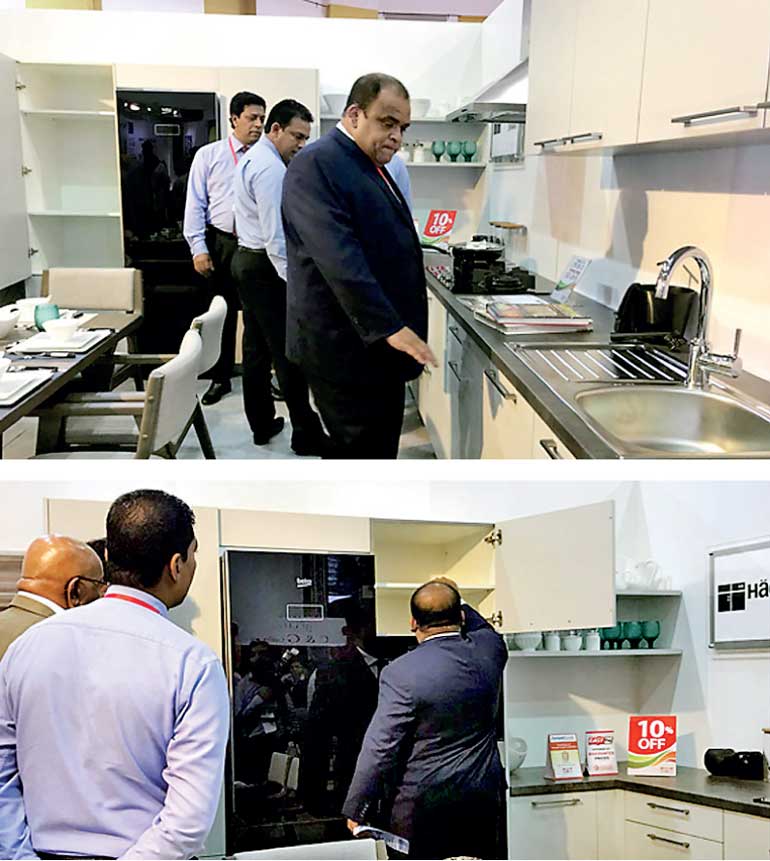 15 innovative kitchen designs manufactured In Germany at affordable price ranges
Häcker SMART, an inventive and efficient new kitchen range was unveiled in partnership with Singer Sri Lanka PLC at the Life Style exhibition 2017. Häcker SMART design range allows discerning customers to choose from 15 unique pre-designed kitchen concepts that incorporates an appealing combination of space utilisation, colours, countertop décor and SS handles. All design concepts will involve the new innovated finishes, 'NEO' and 'UNO', developed following extensive research into the climate conditions, consumer preferences and market requirements.

Customers can purchase their preferred kitchen design concept off the shelf at Singer Homes Showrooms and the commercial team will retrofit the kitchen into customers' own spaces within a week of signing off on the desired orientation. For more customised orientated consumers, all 15 pre-designed kitchen allow add on units to fit to your exact space requirement for an additional surcharge, stated Founder of HÄCKER Smart Martin Klement, Chairman of Mac Trading Ltd. and Fine furniture Ltd. The new range will be available at Singer Homes showrooms island-wide from February 2018.

"Two years of in depth market research went into introducing the new kitchen space range to our Sri Lankan customers. We succeeded in creating affordable design concepts that suit the tropical climate of Sri Lanka without compromising the state-of-the-art design and product quality of the Häcker brand. The two finishes, UNO and NEO provide a long lifetime and adheres to the strict quality standards that Häcker maintains. Furthermore, we are pleased to partner a company such as Singer Sri LankaPLC which is renowned for representing and marketing reputed and trusted brands," commented Martin Klement, Founder and Chairmen HÄCKER Smart.

"HÄCKER Smart will not be available at the HÄCKER kitchen German Made Flagship showroom in Rajagiriya as there is clear differential between these two brands," Martin Klement stated further.

Häcker kitchen German Made, a luxury kitchen brand based in Germany, Roedinghausen is renowned for designing highly functional and aesthetically appealing kitchen spaces to suit the modern world. The brand provides its extensive clientele with fitted kitchens that maintain high standards in quality, functionality and design.

Singer Sri Lanka PLC has welcomed Häcker SMART range to its portfolio of innovative products with the insight that modern customers desire impressive kitchen spaces which adhere to the promise of high functionality. Häcker SMART kitchen space range provides both these qualities in depth. The attention to detail and functional capabilities incorporated into each design will satisfy even the most discerning customer.

Häcker SMART range strictly adheres to the quality and stipulated German standards as the kitchen spaces are manufactured in Germany. Accordingly, Sri Lankan households can enjoy the same luxurious standards present in all Häcker kitchens at more affordable prices.