The ground preparation and retaining wall construction work on Serenia Residences, the luxury development in Talpe-Galle, has already begun and is almost nearing completion.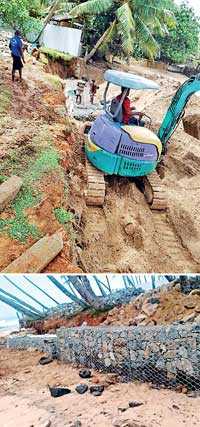 Currently under construction, the new Gabion wall will span the full 95m of beach frontage. Once completed, the Gabion wall will be 95m long, 2m wide and 3m deep, going as deep as down to the dead coral rock.

Serenia Residences, located in Talpe on 180 perches of company owned land is a two-tower development of nine storeys and eight storeys each, ranging from two to five bedroom apartments.

Featuring apartments with stunning glass facades and large two meter wide balconies overlooking the ocean, Serenia Residences is definitely a 'must have'! The project sold 35% of its apartments in just three months with approximately another 7% in reservations, making a total of 42% already sold.

Serenia is a bespoke beachfront luxury development of 47 high end units which are proving to be incredibly popular with discerning international clients. The property is distinguished by its striking, modern and clean architectural design and contemporary interiors.

Prices at Serenia Residences range from $ 290,000 for a 1,360 sq. ft. residence to $ 3.5million for the 12,000 sq. ft. presidential penthouse, which incidentally has already been sold.

The anticipated completion date for the project is December 2019.