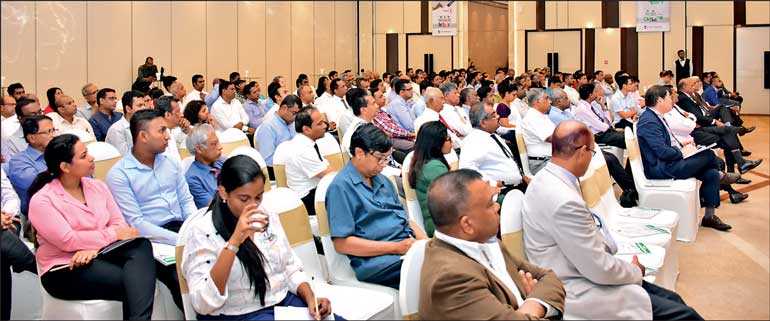 ---
With exclusive sponsorship from Tokyo Cement Group the Chamber of Construction Industry Sri Lanka conducted a seminar on 'For Construction in Sri Lanka – What Next?'

The event was held on 5 November at the Galadari Hotel from 1.30 p.m. onwards. Participation was by invitation and many professionals and those associated with the industry attended.

Amongst the interesting topics discussed were the national physical development plan for the next 30 years (upon which the development trajectory of the country would take place) presented by National Physical Planning Department Director and Urban Development Authority Chairman Dr. Jagath Munasinghe.

This was followed by another interesting topic on the Feasibility Study done for the Suburban Railway Development around and away from the city of Colombo. This would include the Electrification of Suburban Railway Network and laying triple tracks to the rail line towards the south and the rail towards Kandy and Puttalam up to a distance of the city's suburban region.

The next topic that was presented and discussed was on the light rail transit through the city towards Malabe.

All of above topics were not only vivid in their presentations but were also very informative.

Thereafter Construction Industry Development Authority Director General Architect H. Balachandra and Engineer CEO and Secretary General Nissanka Wijeratne made and educative presentation on the National Policy on Construction and the role of the CIDA and its Act and Regulations.

After a short sponsors break the seminar continued with a presentation on the new trends in construction by Jinwoo Kim attached to R&D centre of Hyundai Engineering and Construction Co., who was flown over from Korea.

A Sri Lankan who presently is a lecturer at Curtin University Australia, Dr. Chamila Ramanayake introduced the audience to a growing requirement in the industry which was on BIM applications in design, procurement and construction which is a growing requirement in the industry.

The seminar which was totally hosted by Tokyo Cement Group had many positive reviews by the participants.

New innovative products in cement based construction materials were presented to the audience by Tokyo Cement Group. The seminar which was totally hosted by them had many positive reviews by participants.

The Chamber of Construction regularly holds seminars of public interest in the realm of construction. You may peruse the Chamber website (www.ccisrilanka.org) and gather information of forthcoming events and also of other matters of interest.