From left: FPS Alpha MD Gerald De Saram, M2M Verandah Chairman Rashid Moosajee, M2M Verandah Director Sabrina Jaya, Project Manager Raju Unni
---
FPS Alpha Ltd., a joint venture between Alpha Omega Ltd. and FPS Projects Ltd., recently concluded a major contract to supply and apply a premium exterior texture coating system, from the new "Weathershield Creation" range from Dulux. FPS Alpha succeeded in obtaining the specification of this range for the M2M Verandah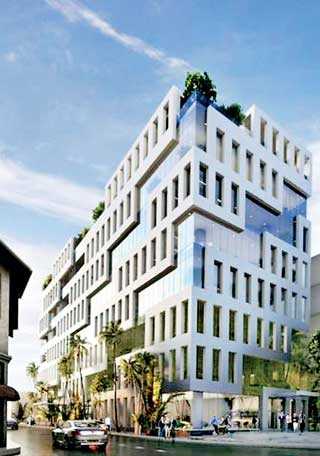 M2M Verandah Development
development, located in the heart of Colombo 02.

FPS Alpha Managing Director Gerald De Saram, a known personality in the paint and coatings industry, described FPS Alpha's achievement of bagging this contract as "extremely commendable". "The paint industry is a fairly technical one that requires mental agility based on sound knowledge, especially when preparing specifications for clients who may not always understand what to expect. I believe the confidence we were able to give Moot Manor proved that we knew what we were talking about, and had a lot to do with FPS Alpha winning this contract against competitors who have been in the business for a longer time," remarked De Saram.

M2M Verandah owner Rashid Moosajee says, "M2M will be an iconic talking point in the city. Leaving no room for disappointment, we have engaged the services of MDRT – a globally recognised architectural firm from Netherlands. They are in charge of designing the building and giving it a distinctive touch of class". Having teamed up with local architects from ACS Integrated and Philip Weeraratne Associates (PWA), MDRT makes sure to deliver their dream design according to expected standards.

Owned by Akzo Nobel BV, the Dulux brand is known as the global leader in coatings, entailing of world-class decorative paint and leading edge coating technology. Here in Sri Lanka, Dulux is the market leader in the decorative paint category and has long been a household name for such products.

In addition to their presence in the decorative paint market, FPS Alpha is also the sole agent for Akzo Nobel's high performance Protective Coatings in Sri Lanka and Maldives. Sold under the brands "International and "Devoe", these heavy-duty coatings protect substrates like concrete and steel against chemicals, corrosion and fire.

FPS Alpha provides Akzo's technological leadership and on-ground support to projects that require decorating and protecting. This includes tall buildings, bridges and overpasses, fuel storage projects, power generation projects, water supply projects, etc.

Akzo's products have been the 'coating of choice' for many iconic structures in the world, including the "Bird's Nest" Beijing Olympic Stadium, the London Eye, New York Times Building, Marina Bay Sands and Gardens by the Bay in Singapore. Locally, Akzo's products have been specified for the famous Lotus Tower and John Keells Waterfront projects as well. With a vision to be more than a distributor of paint, FPS Alpha has the aim of building sustainable relationships with their clients, helping them reduce costs and complexities in their businesses while improving their operational efficiencies.