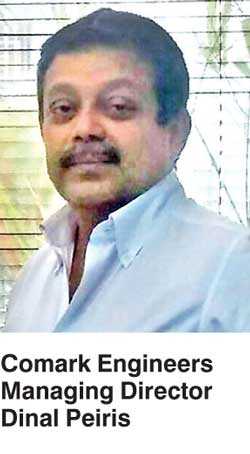 Comark Engineers Ltd., a subsidiary of Lanka Aluminium Industries PLC specialising in design, manufacture and distribution of a range of aluminium builders' hardware announced that their products will help to significantly reduce the costs of construction of buildings and homes. Comark is the first manufacturer of aluminium builders' hardware in Sri Lanka.

"We take pride in manufacturing these fast moving aluminium builders' hardware to international and local standards at our very own factory. These products were imported into the country to support the burgeoning local construction sector which caused a significant drain on foreign exchange reserves. We are now saving substantial foreign currency while creating employment in the newly set up factory," said Comark Engineers Ltd. Managing Director Dinal Peiris.

Comark's 'AlFe' range of aluminium builders' hardware consists of hinges and tower bolts which are widely used especially in plywood, PVC and aluminium doors and windows to meet international standards and are an affordable alternative to be used specially in low-cost construction which uses PVC and plywood doors. These products have a very high resistant to corrosion and is recommended for use in coastal areas as well.

Comark also manufactures solar panel accessories which are used in the installation of solar panels in domestic and industrial applications. In this instance too, imports have been reduced substantially due to local manufacture, thus saving foreign exchange. In addition to the solar panel accessories, Comark is manufacturing stainless steel four bar hinges/friction stays which meet international standards for both local and export markets. These friction stays are used in the mounting of aluminium windows which is a standard feature in most of the buildings.

Comark Engineers Ltd. is the only manufacturer of these products and offer warranties on all of their products. The stainless steel used in the manufacture of these products is tested and their SUS 304 grade is certified as suitable for coastal application.

Comark Engineers also introduced noncorrosive aluminium foldable clothes drying racks, especially for the apartments and coastal areas under the brand name 'Sunbeam'. These powder coated racks which have a high loading capacity can be folded away when not in use and is resistant to outdoor weather conditions including salt spray. The product comes with a one-year warranty and is available in five colours. Clothes racks are becoming more popular due to space restrictions in modern homes. During rainy weather, clothes can be dried indoors and the rack can be easily folded and stored away. It is the first locally produced cloths rack to be sold online.