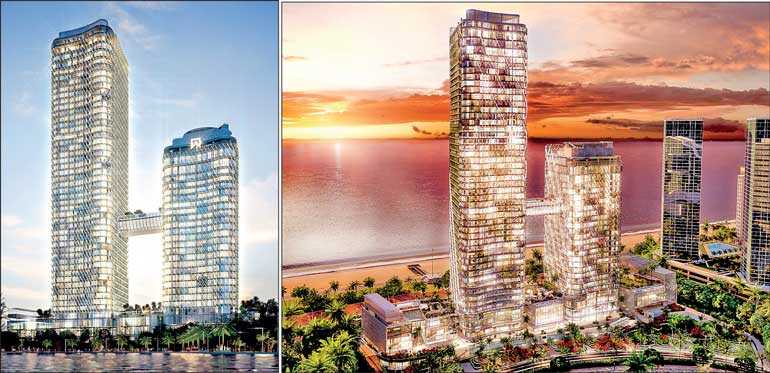 ---
A TV documentary that celebrates the remarkable design and engineering genius behind Colombo's newest landmark is to be broadcast this weekend. 'Making of the Iconic Ahasa One Sky Bridge' presents the fascinating story of how a real estate developer's vision was turned into reality, highlighting numerous challenges to overcome in creating South Asia's first-ever such sky bridge.

Ahasa One is brought to life in the documentary as a distinctive national architectural monument on the global stage. Viewers will learn how the enormous structure was designed, tested, transported, assembled, raised, and installed between the Sapphire Residences and ITC One hotel towers over Galle Face. Weighing a staggering c.3,000 tons when completed, this is equivalent to hoisting more than 160 city buses c.100 metres into the air.

To create this c.55-metre-long elevated pathway was an unprecedented challenge for even the best engineering minds, so ITC's subsidiary, WelcomHotels Lanka, sought the expertise of the world's leading names in design and construction, selecting architect Gensler (USA) and L&T (India) as the main contractors, supported by Thornton Tomasetti (New York) and Sterling (India), as well as celebrated Sri Lankan architect Deshamanya Surath Wickramasinghe, who has been at the forefront of this project since its inception. The structure is the successful result of more than two years intensive collaboration.

"Ahasa One is not just an incredible achievement of engineering; it is a beacon of Sri Lanka's resurgence as a country," commented WelcomHotels Lanka Managing Director Arun Pathak. "Today, perhaps more than ever before, people need hope and the promise of a better future. This unique Sky Bridge will be a distinctive landmark for Colombo and a source of national pride for Sri Lankans."

The installation of the Sky Bridge on 15 December 2019 was highly anticipated, with the entire team and spectators waiting with bated breath as checks and adjustments were made to ensure that it was ready for its final ascent. After eight hours lifting, the team was justifiably jubilant as the Sky Bridge reached its ultimate resting place, where it was fixed into its permanent resting place.

The result of meticulous calculation and planning, the vertical accuracy of the lifting points kept the structure level to within just 3 mm throughout the entire operation. "There was no room for error, as this could have resulted in serious damage to the towers or the structure itself," explained Pathak. An ingenious system of bearings was designed to prevent any movement other than in the designated direction, also minimising the risk of excessive sliding caused by wind and temperature change.

When completed, Ahasa One will offer the city's most breathtaking dual-panoramic views; featuring two c.50+ metre infinity pools and sun deck on top with a luxurious jazz lounge and bar within, it is destined to become popular leisure destinations for Colombo's elite.

'The Making of the Iconic Ahasa One Sky Bridge' will be broadcast on Hiru TV at 5:30 p.m. on Sunday 9 May and on Swarnavahini at 6:20 p.m. on Friday 14 May. It will then be available for viewing on YouTube.