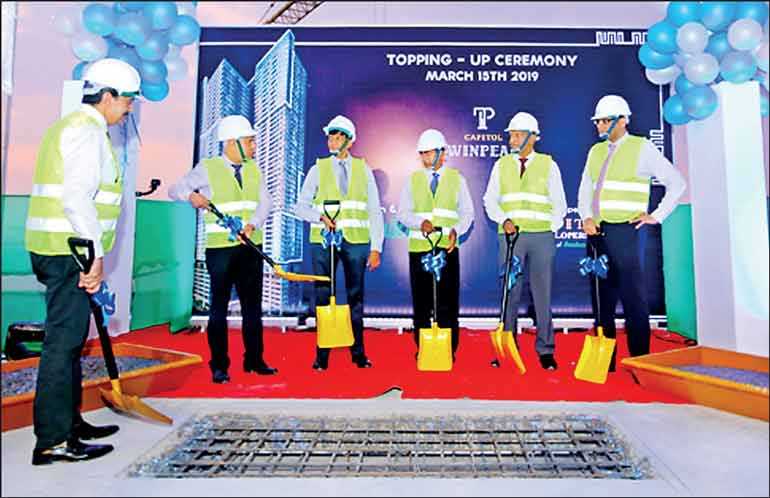 Capitol TwinPeaks, the flagship residential venture of the Sanken Group located on the Beira lakefront in Colombo 2, held a private Topping-Up ceremony at its 50th-storey rooftop, on 15 March. The globally adhered-to tradition marks the completion of its project superstructure whilst felicitating all stakeholders involved in the projects progression, an astounding six months ahead of schedule.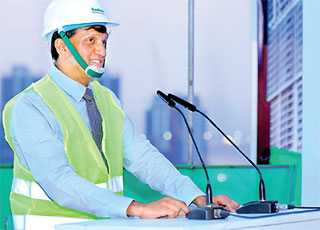 Sanken Group Chairman Mahen Weerasekera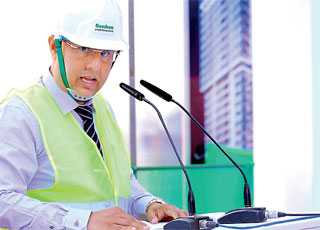 Capitol TwinPeaks Managing Director Rohana Wannigama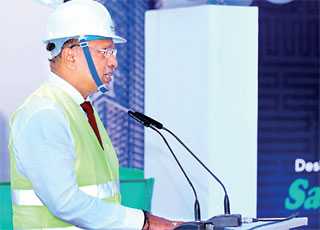 Sanken Construction MD Engineer Major Ranjith Gunatilleke
The project, which broke ground in November 2016, has exceeded expectations in terms of delivery timelines and international interest. With the remarkable progress of the project, Sanken continues to be at the forefront of construction and real estate in Sri Lanka, reaffirming the trust of local and international investors in Sri Lanka as a destination for worthy real estate investment.

Capitol TwinPeaks Managing Director Rohana Wannigama welcomed guests from the Central Bank, the Condominium Management Association (CMA), the Urban Development Authority (UDA), the Colombo Municipal Council (CMC), The Ceylon Electricity Board (CEB), The Water Board, Hatton National Bank (HNB), other Banking Partners, as well as the Senior Management of Sanken Group and its subsidiaries.

The ceremonious final concrete laying was coupled with traditional Kandyan drummers, confetti cannons and the release of 1,000 helium balloons. With a champagne toast led by Sanken Group Chairman Mahen Weerasekera, Colombo's night sky was taken over with a spectacular fireworks and light show.

Speaking at the event, Weerasekera said: "The completion of the Superstructure is yet another significant moment in the progress of Capitol TwinPeaks. It not only signifies a milestone in construction, but also presents a symbol of our pledge to deliver on time, whilst maintaining trust." Thanking Hatton National Bank as the project funding partner for its support and confidence in the project, Weerasekera concluded: "the project's construction continues ahead of schedule, based on the tireless efforts of our team. I take this opportunity to extend my gratitude to our Sanken Team for their dedicated and passionate commitment to deliver well ahead of time, as per specification." Speaking on Sanken's quality assurance and the project's international standard, Sanken Construction Managing Director Ranjith Gunatilleke noted the correlation between timely delivery and profitable investment returns for its customers.