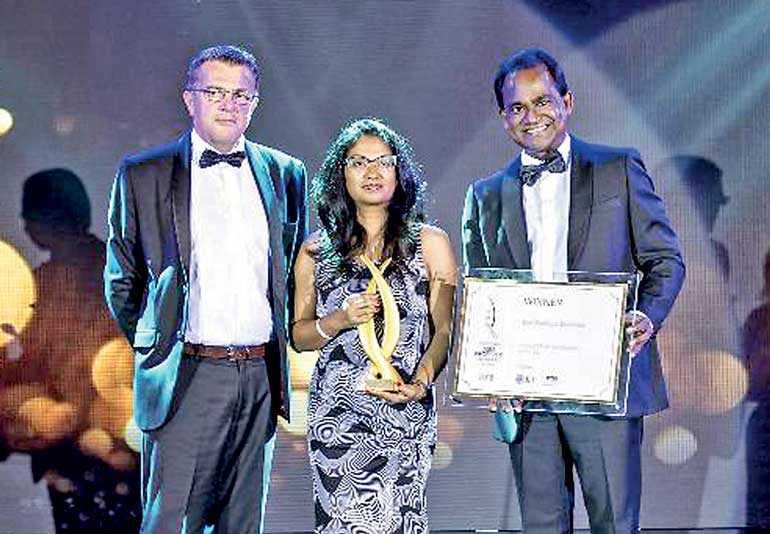 From left: Steven Mayes, JLL, a member of the panel of judges, Capital Trust Residencies Managing Director Minoli Wickramasinghe and Capital Trust Holdings Chairman Tushan Wickramasinghe
Capital Trust Residencies Ltd. clinched four prestigious awards at the Property Guru Asia Property Awards 2018 held at Shangri-La Hotel Colombo on 12 July, among them being a major award, that of the 'Best Boutique Developer'.

The company's' Thimbirigasyaya Road, Colombo 5 project won 'Best Mid End Condo Development (Colombo)' and also received a highly commended award for the 'Best Condo Interior Design'. These elegantly designed apartments are built to world class specification to complement today's city lifestyle, boasting beautiful finishes, stylish accessories and tasteful interiors for truly luxurious living.

Fortress, Ethul Kotte which secured another highly commended award for the 'Best Affordable Condo Development (Colombo)' is a luxury apartment complex centrally located in Kotte Road which offers a panoramic view of the Diyawanna Lake and the historical and lushly picturesque city of Kotte.

These wins follow Capital Trust Residencies winning three awards including the Best Condo (Sri Lanka) 2017 at the Asia Property Summit in Singapore last year. The company has also successfully completed and issued deeds for its Vajira Road, Colombo 4 luxury apartment project.

This year Sri Lanka hosted the Asia Property Awards and Asia Property Summit event, organised by Property Guru, for the first time. Property Guru recognises and rewards outstanding real estate developers and developments in Asia. All entries were rigorously, fairly and transparently judged by an independent panel of experts in the industry and assessed by trustworthy supervisors with site inspections included. Last year Capital Trust Residencies won three awards.

Capital Trust Holdings Ltd. Chairman Tushan Wickramasinghe sees the awards as validation of the company's appeal to different market segments. "To win the Best Boutique Developer Award and the Best Mid End Condo Development (Colombo) Award this year on top of winning the Best Condo Sri Lanka award last year is significant. This proves that Capital Trust Residencies has established itself as the undisputed Best Mid End-Developer in Colombo."

Meanwhile, Capital Trust Residencies Managing Director Minoli Wickramasinghe said, "These awards prove we are able to maintain superior standards in all our properties whether they are at the boutique or affordable end of the scale."

Capital Trust Residencies Ltd. is a fully owned subsidiary of Capital Trust Holdings Ltd., which entered the financial services industry as a stock-broking firm in 1991. Today the Capital Trust Group of Companies has expanded into many areas of businesses, including margin trading, investment advisory, wealth management, property development, real estate solutions, information technology, packaging, and education.