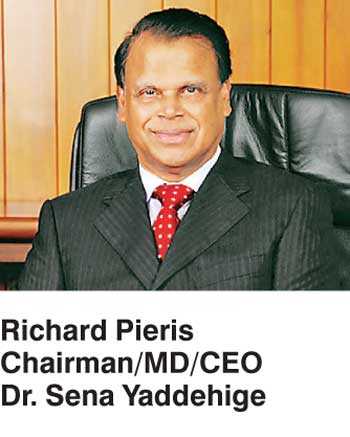 Renowned among Sri Lanka's largest business conglomerates as a market driven and technologically oriented diverse group, Arpico recently hosted a gala event for its top dealers in the hardware sector for the sixth consecutive year at The Blue Water Hotel, Wadduwa.

In appreciation of their commendable performance that celebrated yet another outstanding year of sales and collections, the 'Dealer Awards' is one of the key highlights of the Arpico Local Manufacturing and Distribution (LMD) sector events calendar. The ceremony featured over 100 top hardware dealers who have accumulated the highest sales targets for the company during the year 2017/2018 and were awarded in front of their families with valuable gifts and tours under Platinum, Gold, Silver and Bronze categories.

Commenting on the Arpico dealer network's formidable performance, Duminda Perera, Deputy General Manager, LMD Sector, Richard Pieris & Company PLC, said, "The Arpico dealer network plays a significant role in taking our top-quality products to a larger customer base island wide. Our objectives are to retain and increase the dealer base island-wide and to strengthen its relationship between the company and its dealers."

Meanwhile, Dilshan Abeysekera, Head of Marketing and Business Development, LMD Sector, Richard Pieris & Company PLC, expressed, "It is not without the valuable support of the commitment of our people that we could have achieved such a strong growth over the past years. I wish to extend my heartiest appreciation and gratitude to the entire team who has worked tirelessly to reinforce our brand promise and we look forward to their continued and passionate contribution in the years to come."

The theme of this year's awards ceremony was 'Space Galactica' where the dealers were invited to experience the journey towards a new era that symbolises the company's goal of providing exceptional technological upgrades, an unmatched quality product portfolio and wider brand presence. At the event, the Arpico Hybrid Fusion Platinum collection was introduced to the dealers by announcing the availability of the Arpico Hybrid Fusion Tanks within the distribution channels.

Regarded as the total water solution provider, Arpico Water Tanks has established itself as the market leader that continues to boast unmatched quality and product upgrades for quality water consumption within its key segments. RPC Polymers Ltd. is a company which operates under the Richard Pieris Company PLC under the chairmanship of Dr. Sena Yaddehige, a Sri Lankan born British Engineer and a Swiss based industrialist. What is more, Arpico is among the finest hardware and manufacturing industries encompassing a wide range of products such as Arpico Water Tanks, Arpico Rigifoam, Arpico Rubber, Arpico PVC and Arpico Durables.