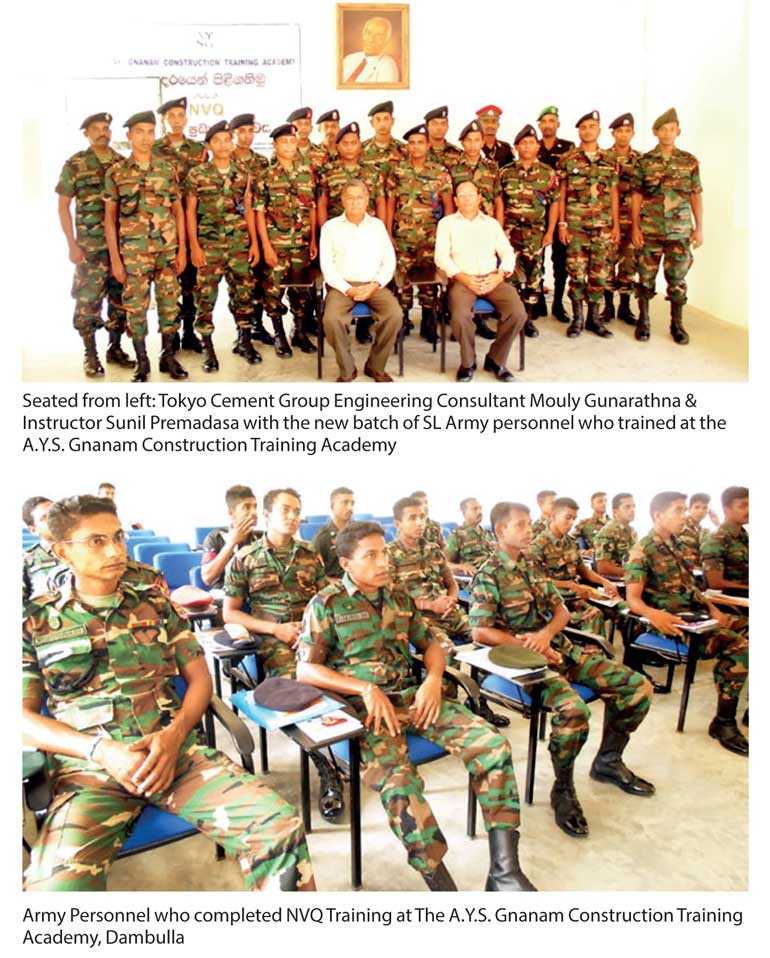 The Sri Lanka Army is a regular user of the training facilities available at the A.Y.S. Gnanam Construction Training Academy, Dambulla. It is of the view that the yeoman service offered by the Academy is a valuable contribution in support of the nation-building work undertaken by the Sri Lanka Army.

So far during this year, 53 Army personnel attached to the Security Forces of Kilinochchi, Vanni, Mullaitivu and Jaffna have already undergone residential training at The Academy, and 34 have successfully completed the National Vocational Qualification (Masonry) Level 3 training. The balance 37, who successfully completed their 01-month Residential Training Program, recently faced their NVQ test under the supervision of NAITA officials. Tokyo Cement Group Consultant Engineer Mouly Gunarathna, who spearheads all training and development programs conducted through the A.Y.S. Gnanam Construction Training Academy, was instrumental in directing this training program in line with the NVQ standard guidelines and the requirements of the SL Army.

The Academy, accredited by the Tertiary & Vocational Education Commission, conducts residential training programs to offer NVQ Certification for skilled and non-skilled masonry craftsmen, opening up career upliftment opportunities. This ultra-modern Training Academy in Dambulla can accommodate 50 residential trainees, and comprises of fully-fledged theoretical and practical training facilities, inclusive of all tools and building materials required to conduct comprehensive training sessions. Annually, over 200 masons obtain their professional qualification at the Institute, and become active participants of nation-building. The Academy has produced over 1500 trained masons since its inception.

In addition to developing the skill level of masons, Tokyo Cement also conducts island-wide awareness programs for Engineers and Technical Officers of the public and private sectors, to enhance their expertise in construction methodologies. These Seminars are offered free of charge, to help share best practices in the field of construction, enhancing knowledge of professionals on innovative methods in the usage of cement, concrete and cement-based value-added products. Tokyo Cement Group, as Sri Lanka's No. 1 supplier of cement and concrete, has dedicated itself to harness the potential of well-trained, competent and qualified personnel, who contribute to uplift the overall professional standard of the local construction industry.