Sri Lanka's premier Construction Expo bringing together both local and international suppliers and service organisations in the building, construction, engineering and architecture industry will be held from 20-22 March at the BMICH from 10 a.m. to 8 p.m.
Organised and managed by Lanka Exhibition and Conference Services Ltd. in collaboration with the Ceylon Institute of Builders (CIOB), for the eighth consecutive year, the organisers hope it will be the platform in which the future development of the industry would take place.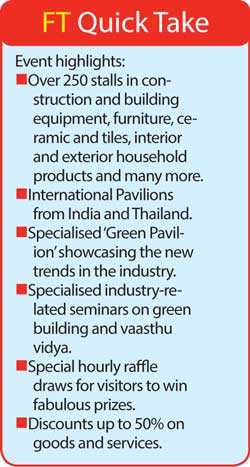 Our ancient forefathers were expert builders. Centuries later we still witness the formidable structures they built, motivated by an indomitable will to succeed as a nation. We have been dazzled by their colossal reservoirs, majestic citadels, magnificent temples and villages that resonate with the original blueprints of eco-friendly systems.
These monumental buildings also had incorporated security systems and an atmosphere conducive for a healthy lifestyle. Many of these historic sites are venerated for their holistic aura and engineering excellence within Asia. Thus the art of transforming raw material into carefully planned and beautiful buildings is deeply rooted in the national fabric of our resplendent motherland Sri Lanka. In making buildings we also sustain all citizens and build a secure future.
Construction Expo 2020 is the perfect platform where builders, architects, suppliers and customers can meet in an environment where everyone is guaranteed success. It is more than a conventional business exhibition: it is a venue where aspirations become a tangible reality. It is the venue where construction design and customers desire meet in a blissful symphony that will produce positive results.
In addition there will be service providers of the following roofing systems. Floor tiles, wall tiles, lights and fittings, sanitary ware, air conditioning, IT systems, safety and security systems, doors and windows, paints, solar and thermal products, heavy machinery and transportation. These suppliers will be augmented with the presence of finance and banking professionals. There will be foreign suppliers joining the exhibition and enriching the event.
Gold Sponsors of the event are Sirocco Air Technologies Ltd. and KDI International (INGCO). JLanka Technologies Ltd. is a Silver Sponsor for the event. Fixing Partner – Role Plug and Construction Partner – Lex Duco Ltd. Official Magazine – Kedella. Media Partner – ANCL, Digital Media Partner – Multi Creative Solutions, Logistic Partner – Famous Pacific Shipping Lanka Ltd.
Organisers invite all key stakeholders from the building, architecture, construction and engineering industry and affiliated professionals to be part of this exhibition and understand the need and trending perceptions of the customers. For information contact Chamara on +94 772-614109, 011-2390560 or Email: [email protected] or visit www.constructionexpo.lk for more details.