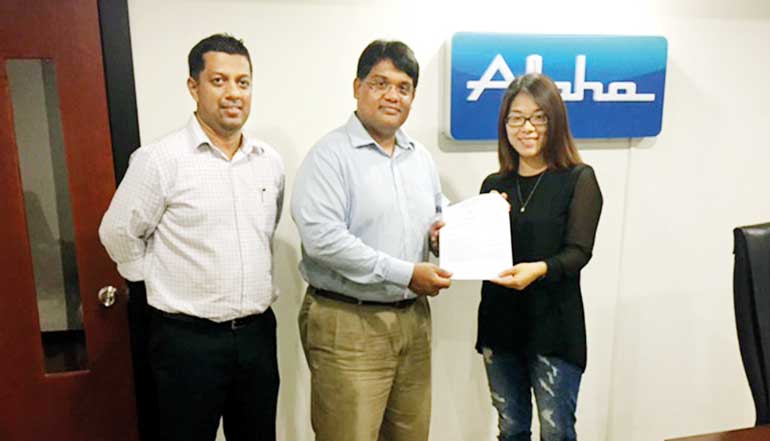 From left: Alpha Industries Director Sales and Marketing Safraz Careem and Managing Director Priyanjith Weerasooria exchange agreement with KENT Doors Director Rachel Cheng
Alpha Industries, one of the leading furniture manufacturers in Sri Lanka, has been appointed as the Authorised Agent in Sri Lanka for global door manufacturer KENT International China. With this partnership, Alpha Industries will be able to market KENT International's wide range of doors to the Sri Lankan market.

KENT wooden door range marketed in Alpha showrooms includes fire proof wood, luxury wood, melamine wood and PVC wood doors while their steel door range includes steel security, fire-proof steel, stainless steel and steel-armoured doors. All KENT Doors are manufactured using the latest global technology and have several international certificates including ISO9000, FSC and CE. They have also passed the FD30, FD60, FD90 and FD120 fire door tests under British Standard BS476, both of by Intertek and BM Trada certified, the acoustic door tests and water proofing tests, FD20, FD45 and FD60 under UL Standard.

Having provided services to thousands of projects in hundreds of countries across the world, KENT International has vast experience in the manufacturing and supply of doors and is familiar with demands of different regions on products and technology. The company aims to be the world's top wood products processer and solution provider, and to become the best partner of large real estate companies and construction companies. They recently invested $ 30 million in China to establish a state-of-the-art production centre. The company's annual production capacity is 200,000 wooden doors, 300,000 PVC doors, 500,000 steel doors, together with auxiliary products such as the closet, wall panel and skirting line.

A few of the key customers that KENT has supplied doors to include Disneyland Shanghai, Hilton Atlanta (USA), Radisson Hotels Charlotte (USA), Four Seasons Hotel (Kenya), Holiday Inn Hotel (India), Anantara Peace Haven Tangalle Resort (Sri Lanka), Havelock City (Sri Lanka) and SNC in Sports City (Dubai).

KENT Doors helps to expand the Alpha's product range that currently includes office furniture such as tables, cupboards, drawers, conference and office chairs, world-class security items that include digital safes, drop safes, cashier safes, night safes, wall safes and data safes and a wide collection of home furniture and accessories.

Alpha Industries Managing Director Priyanjith Weerasooria stated, "This partnership is a significant milestone for Alpha as with it we are able to bring a top quality international product to the Sri Lankan market. The range of KENT doors will help boost our product portfolio giving our valued clientele a wider range of products to choose from when they step into our Alpha showrooms. With the continued growth in construction projects in Sri Lanka, we feel that KENT doors will provide the market with greater options through its array of products."

He added that upon his visit to the KENT International Headquarters in China he was convinced that KENT was a world-class, professional company that can help Alpha to achieve its long term objectives as a company.

Alpha Director Sales and Marketing Safraz Careem stated, "Offering products of international standard to the local market is something Alpha excels at. KENT doors will clearly add a new dimension to our product range and we are confident that they will be well-received by our customer base. We shall continue to strive to bring down similar products of global repute to give our client premium products at the best prices while also strengthening our position in the market."

KENT Doors Director Rachel Cheng stated, "We are very happy to join hands with a reputed company such as Alpha Industries, a company that has been excelling in the manufacturing business for over 50 years and has the right channels to take the world-class KENT products to their large customer base."

Alpha showrooms are located in Colombo, Nawala, Maharagama, Gampaha, Negombo, Kurunegala, Kandy, Panadura, Ratnapura, Matara and Jaffna. The company also has 47 dealer points island-wide. The latest addition to their expanding network is the exclusive Concept Store, specifically created to fill the gap between affordable home furniture and luxury furnishings, at Dharmapala Mawatha, Colombo 7.

Alpha Industries is a subsidiary of FINCO Group that manufactured steel office furniture during its early days and later expanded to manufacture all kinds of security safes for which it continues to be the market leader even today. The company later ventured into the manufacturing of steel, melamine and wood-based office furniture in addition to designing and executing its own office interiors. The company operates three state-of-the-art factories and employs approximately 650 employees. Today, Alpha also manufactures furniture for homes, hospitals and the leisure sector.