Wallspan which has proved to be a competitive force in shaping the building façade industry since its inception, by introducing a range of innovative, high quality and sustainable cladding solutions to the Sri Lankan building facade market within the last few years, in association with VMZINC, will host the first ever Sri Lankan conference on Biophilic Architecture, its origin and its seamless integration into 21st century buildings and façade design, along with an introduction in to the latest trends at the BAIF conference.

Wallspan will unveil an award winning patented façade technology at the forthcoming Biophilic Architecture and Façade Conference (BAIF) that will be held on 10 March at Colombo Hilton.

Wallspan's mission is to be the leader in creating sustainable and best quality living spaces by delivering building finishes to those of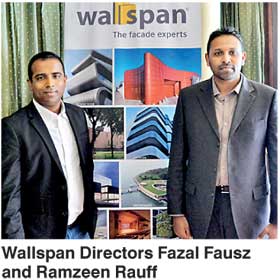 international standards in Sri Lanka and the Indian Subcontinent through commitment to innovation, best design and engineering excellence.

Wallspan is headed by Director Ramzeen Rauff who brings over 10 years of experience in the British construction market where he worked as a Strategic Business Unit Manager of a German façade manufacturer. Rauff possesses in depth knowledge of several façade systems and is an expert in media façades. During his 10-year stint in London, he was involved in several high profile projects, such as the Heathrow Airport Terminal 5 and Terminal 2A MSCP façade projects, Stanstead Airport VIP Terminal, London Olympic projects, O2 Mobile phone headquarters facades, while he also has experience in both European and Middle East projects where he oversaw the operations.

Rauff has delivered CPDs on innovative facades and media facades at Foster and Partners, Zaha Hadid, BDP, Buro Happold, Rodgers Stirk Harbour and Partners, and many other top 100 international architects based in the United Kingdom.

Specialising in architectural building facades and specialist interior wall applications, as well as acoustic solutions for board rooms and auditoriums, Wallspan's experience in the local and international environments helps the company to provide the most advanced technology and products for even the most exacting corporate projects. "Our ability to provide bespoke engineered solutions to meet the specific requirements of our clients differentiates us from the others, while maintaining higher standards is achieved thanks to our highly skilled team, products manufactured to international standard, quality workmanship and attention to detail," said Wallspan Director Fazal Fasuz.

Wallspan's products are chosen from world renowned manufacturers in Europe, USA and Singapore in order to ensure that clients benefit from the latest technology and sustainable projects that provide them with long term cost benefits together with a sustainable and safe work place. "We are proud to be the pioneer of the Wallspan EXTEC mesh façade system, which has transformed the appearance of many buildings in Sri Lanka while enabling them to achieve greater functional benefits such as reduced air condition costs and comfortable work spaces that increases the productivity of their work force," said Rauff.

Wallspan's energy efficient Light Clad system comes from a company head quartered in Germany who pioneered the use of Light Clad for building façades. These highly engineered products with good heat block and U-value help to reduce heat transfer into the building, resulting in reduced energy consumption up to 80% depending on the type of constructions and specific initial situation, whilst the translucency helps to cut the interior lighting costs. "Our light clad energy efficient façade can provide great cost benefits and at the same time it provides state of the art products with beautiful 3D effects," said Rauff.

archiZINC which is yet another product offered by Wallspan, is one of the best materials available for architectural applications on buildings. "Zinc cladding is mainly used to achieve long lasting, low maintenance in the international façade industry, moreover the unique texture and natural look connects the building with the Mother Nature."

Plante living façade is yet another success story in Wallspan's continuous efforts to find innovative facades that can connect the Urban with Mother Nature. "Today most developed countries live in concrete jungles and they have realised the importance of having parks and green walls that improves not only the quality of life but also productivity at the work place. Singapore is country which has benefitted greatly, with many of their buildings having living facades."

Wallspan's aim is to help build a world class city in Colombo with the use of right technology. "We have already begun to build the biggest living facade on a five start hotel project in Colombo with state of the art fully automated irrigation systems. We believe this will be the starting point to change the landscape of our beautiful city."

Some of Wallspan's clients are Dialog, Asian Alliance, universities, the Soft Logic Group, banks, international hotel chain Movenpick and certain leading clothing brands.