Wallspan together with global façade experts VMZJNC who are headquartered in France, will present the first-ever Biophilic Architecture and Innovative Façades Conference, its origins and its seamless integration into 21st century buildings and façade design, along with an introduction in to the latest trends, on 10 March at the Hilton.

VMZINC is a global power house that manufactures high quality façade and roofing products with several other strategic business units specialising in various industrial applications. The history of VMZINC as part of the Umicore Group goes back more than 200 years. The Umicore Group has a number of mining and smelting companies, which gradually evolved into a materials, technology and recycling company. Today VMZINC-Umicore Group is one of the world's largest players in this industry with a presence in all continents.

Wallspan who have proved to be a competitive force in shaping the building façade industry since its inception, by introducing a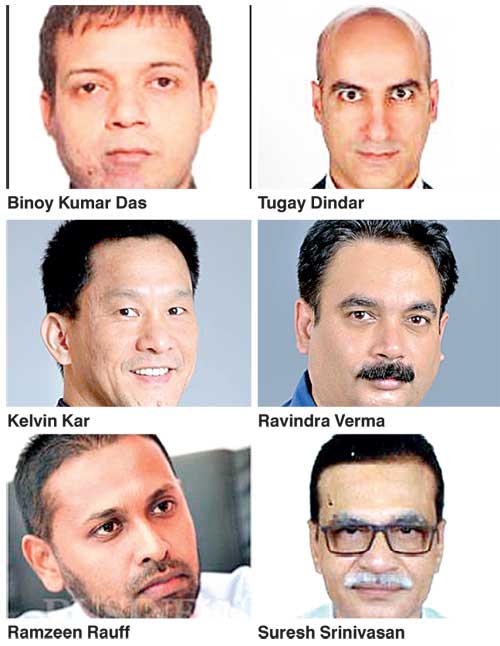 range of innovative, high quality, and sustainable cladding solutions to the Sri Lankan building facade market, will also unveil an award winning patented façade technology at the conference.

The professionalism of the speakers reflects a diverse background of high-level overseas and local senior executives and consultants in the industry, amongst whom are Kelvin Kan Architect and Façade Consultant from Singapore AgFACADE DESIGN, Tugay Dindar Architect and Façade Consultant from France VMZINC, Binoy Kumar Façade Consultant from Facade Concept Design, Ravindra Verma Architect Kothari Associates Ltd., and Suresh Srinivasan, CEO of Auro Power Systems in India.

Kelvin Kan graduated in Scotland and worked in some leading architectural practices in London before obtaining his MSc in Construction in Management from Kingston University (UK). Kelvin practiced as an architect in Singapore since 1993 and moved into the glass industry before becoming a facade specialist. 2003-2009: Façade Design Specialist with Arup Façade Engineering, Kelvin founded AgFacadesign (AgFd) in 2009. Kelvin's work 158 Cecil Street was also shortlisted in the 2012 World Architecture Festival, 2013 Singapore President's Design Awards and featured in CNA's City Time Traveller programme and 'Singapore: Biophilic City'.

Tugay Dindar graduated from Paris-La Villette Architecture School in Paris, 1999 and 2004 Architect Project manager in Parisian Architecture offices Brunet & Saunier, BRS Architects, AR&C. Tugay has been Working for VMZINC since 2004 (12 years), as international Architecture and project consultant for South Europe, Middle-East, Central Asia based in VMZINC Headquarters in Paris. He has advanced skills in Facade & Complex/Amorph shape project management in international environments (mature & emerging markets). He is also a member of the VMZINC Architectural magazines Editorial Committee and a Member of the Archizinc Campus Architecture Competition committee. Tugay has been representing VMZINC on different international platforms and is well versed in the selection of right building envelope systems, best suited to meet the architects design intent.

Binoy Kumar Das is Managing Director Façade Design Group in India. Binoy Graduated with an engineering degree and has 14 plus years of working experience in the façade registered FCD Mumbai office with intention to provide consultancy and engineering services, and has completed several medium to large-scale projects. Binoy started FCD in 2009 with eight members of staff, they have now expanded to 42 qualified people working across various offices in Mumbai, Dubai, Bangkok, Cambodia, Sri Lanka and the Philippines.

Ravindra Verma graduated from SPA, New Delhi, India in 1991 and started working with Kothari Associates Ltd., Connaught Place, Delhi, India. Since joining KAPL, he has taken a leadership role in jointly building the firm's portfolio and has been instrumental in leading the design of several projects. He has spent more than 25 years focused on planning and designing large scale retail outlets, hotels, offices, residential, mixed use developments, colleges, campuses, townships, Industrial, laboratories and hospitals. The unusual use of space is his forte. He has an eye for good design and can visualise and translate ideas onto paper to show clients and builders. His expertise in leading design teams and client management is a key factor of his success.

Suresh Srinivasan graduated in Science from MKU (Madurai Kamaraj Univeristy). He commenced his career in the pharmaceutical industry in 1979, and worked in the FMCG industry and subsequently went on to manufacturing in the power electronics industry. He recently expanded into the field of New and Renewable Energy (NRE).

Wallspan is headed by Director Ramzeen Rauff who has over 10 years of experience in the British construction market where he worked as a Strategic Business Unit Manager of a German façade manufacturer. Some of Wallspan's clients include leading telecommunication companies, insurance companies, banks, universities, various brand conscious corporations, international hotel chains and some of Sri Lanka's leading clothing brands.

The forthcoming conference is bound to shed new light on biophilic design, industry innovations and technologies, resulting in better design and engineering excellence in Sri Lanka.

Visit www.facadeconference.net for more updates on the conference and www.wallspan.lk for information on innovative façade technologies.