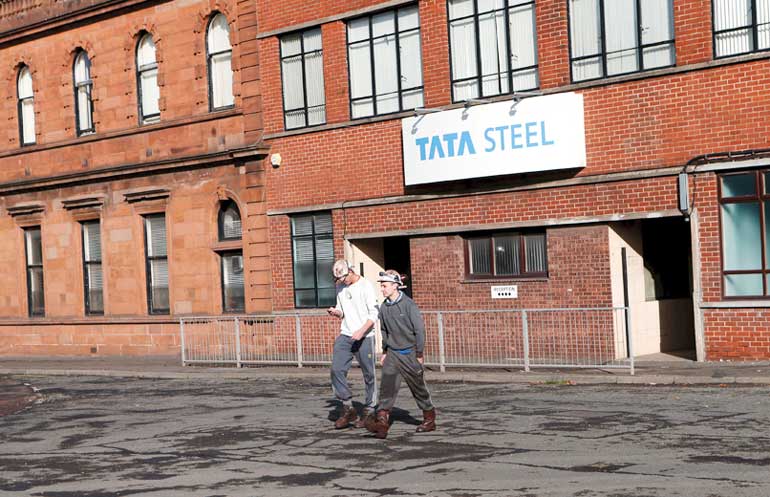 Reuters: Tata Steel, Britain's largest steelmaker, is considering the sale of its entire UK business to stem heavy losses, a move that would draw a line under its almost decade-long foray into Britain's declining steel industry.

After a marathon board meeting in Mumbai, the steel giant said in a statement in the early hours of Wednesday that the financial performance of its UK arm had deteriorated substantially in recent months – after years of already weak conditions.

Blaming high manufacturing costs, domestic market weakness and increased imports into Europe from countries like China, the company said it saw little change in the competitive position of its UK operations, which employ some 15,000 people and include Port Talbot, Britain's largest steel plant.

As a result, Tata said its European arm would now "explore all options for portfolio restructuring, including the potential divestment of Tata Steel UK, in whole or in parts".

"Given the severity of the funding requirement in the foreseeable future, the Tata Steel Europe Board will be advised to evaluate and implement the most feasible option in a time-bound manner," it added.

Tata Steel bought Anglo-Dutch steelmaker Corus in 2007 and has since struggled to turn the giant around in the face of a deteriorating market, slashing costs and jobs.

The company said it remained in talks with the UK government, for which the battered steel industry and thousands of job cuts are a major political headache. Port Talbot, though far from its 1960s peak, still employs about 4,000 people, and Tata is one of the most significant private companies in Wales.

Unions welcomed the decision not to shutter the plants but called on Tata to be a "responsible seller" and on the government to play its role.

"We don't want just want more warm words, we want a detailed plan of action to find buyers and build confidence in potential investors in UK steel," Roy Rickhuss, general secretary of steelworkers' trade union Community, said.

The opposition Labour party called on the government to save an industry it described as "the cornerstone of our manufacturing sector". Labour leader Jeremy Corbyn has in the past suggested a part nationalisation of the steel industry.

The government has said it is ready to work with Tata.

Tata Steel is the second-largest steel producer in Europe with a diversified presence across the continent. It has a crude steel production capacity of over 18 million tons per annum in Europe, but only 14 mtpa is operational.

Two of its three main units, Port Talbot and Scunthorpe, are in Britain, with the remaining operations in the Netherlands.

Tata also said in its statement that it is still in talks with investment firm Greybull Capital over the sale of its British long products unit, which makes steel for use in construction. Talks with Greybull were announced last year.