OSLO (Reuters): The world must stop treating the oceans as a "waste swimming pool" for pollution, a senior UN official said at the recent debut in Oslo of a $65 million research ship to help developing nations manage fish stocks.

The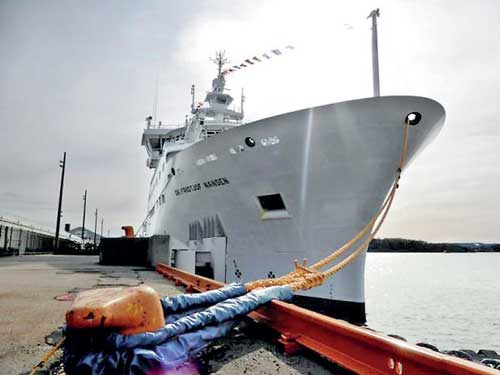 75-metre long Dr. Fritjof Nansen, funded by Norway, will help understand fish stocks mainly off Africa to avert over-fishing and pollution that have depleted many commercial fish stocks worldwide.

The vessel will start its first mapping mission off West Africa in May, in a joint UN and Norwegian program.

"For a long time we've cultivated this idea that the ocean is a kind of waste swimming pool where we throw everything we don't want," said Jose Graziano da Silva, Director-General of the UN's Food and Agriculture Organization (FAO).

"This needs to change," he said.

Norwegian Prime Minister Erna Solberg smashed a bottle of champagne against the white hull of the ship, equipped with high-tech gear from sonars to laboratories, in a naming ceremony by the Oslo fjord.

"We have to make sure that oceans are more sustainably managed than they are today," she told Reuters. The vessel is named after Fridjof Nansen, a Norwegian explorer, diplomat and humanitarian who won the 1922 Nobel Peace Prize.

"The biggest problem we have worldwide is that we are over-harvesting fisheries ... because there is too little control," she said. Pollution, ranging from industrial waste to household plastic bags, and climate change were adding to stresses.

The vessel is the latest version of a research ship of the same name that worked off the coast of more than 60 nations in recent decades, helping identify new fishing grounds from Nicaragua to Sri Lanka.