National carrier SriLankan Airlines launched its voluntary carbon offset program, 'flygreen' coinciding with World Environment Day recently. The official Environment Day event was held at Airline Centre, Katunayake with the participation of the staff members and students from nearby schools.

Implemented under the 'Planet-friendly SriLankan' initiative in collaboration with the International Air Transport Association (IATA), this allows SriLankan passengers to neutralise their individual carbon footprints by purchasing carbon credits. The flygreen program will be monitored by IATA, and its proceeds will be invested on a local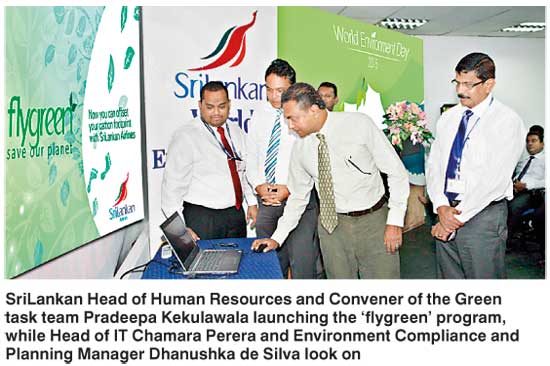 conservation project, offering the environmentally conscious passengers the opportunity to contribute to the airline's sustainable practices.

Addressing the gathering, SriLankan Head of Human Resources and Convener of the Green task team Pradeepa Kekulawala said, "SriLankan Airlines has been steering many planet-friendly initiatives to contribute to the reduction of the industry's carbon footprint. In today's context, aviation accounts for 3% off the total carbon emissions. With the increase in demand for air travel, aviation industry will keep expanding; hence it is the responsibility of the stakeholders to revoke the repercussions of carbon emissions as a damage control measure."

Commenting on the Airlines' environment initiatives, he added, "SriLankan Airlines have launched many pioneering initiatives in the Asian region; for instance the 'Planet friendly Flights' campaign in 2009 and Asia's first 'SOLAtube' lighting installation in 2013. Further SriLankan have secured consecutive energy awards in 2012 and 2013 at the national energy awards as well."

Sending a congratulatory message on SriLankan's effort to introduce a voluntary carbon offset program, Aviation Environment International Air Transport Association Director and Air Transport Action Group ATAG Executive Director Michael Gill commented, "The aviation industry takes the carbon challenge extremely seriously. We are aiming for carbon neutral growth from 2020 and to cut emissions by 50% by 2050. Initiatives like SriLankan's voluntary carbon offset program have an important role to play in meeting these targets. We congratulate SriLankan Airlines for its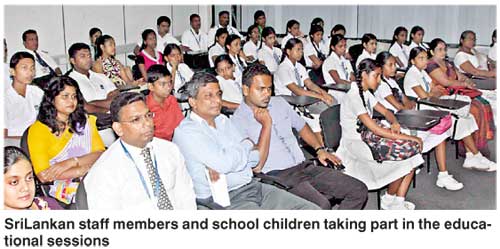 proactive support in helping to make aviation a sustainable industry that can continue to extend economic and social opportunities for the people of Sri Lanka and beyond."

With this initiative, SriLankan Airlines becomes the first airline in the region to have implemented a voluntary carbon offset program and as a member of the IATA industry program. Members of the IATA Carbon Offset Program only invest in the most credible carbon neutral projects, which are UNFCCC approved projects and credits which are recognised as Gold Standards. SriLankan Airline's flygreen program calculates carbon emissions based on a methodology adopted by the International Civil Aviation Organisation (ICAO).

Commending SriLankan's voluntary carbon offset program and its long term impact, IATA Carbon Offset Programs Assistant Director Michael Schineider in a message said, "I would like to congratulate SriLankan Airlines for it is hard work and dedication, demonstrating the company's willingness to tackle environmental issues and to concrete steps to reduce greenhouse gas emissions. Passengers buying an online ticket on the SriLankan will be able to reduce their carbon emissions (footprint) by investing on a local project – The Hapugastenne and Hulu Ganga Small Hydropower plant. Any of the contributions towards the offset program will benefit local communities, protect their environment and improve the livelihoods of the people in the long term."

The Environment Day program included a special awareness building sessions for the airline's employees and students from nearby schools on this year's global theme, 'Seven billion dreams. One planet. Consume with Care'. The winners of the art competition organised for the children of the staff members, were also awarded prized at the event.

SriLankan Airlines last year launched the Corporate Green Policy and the Eco Procurement Policy together with the corporate green website. SriLankan currently holds the observer status of the IATA Environment Committee. This year, the airline is aiming to obtain ISO 14001 and 50001 for energy management, which will be a first by an airline in the region.