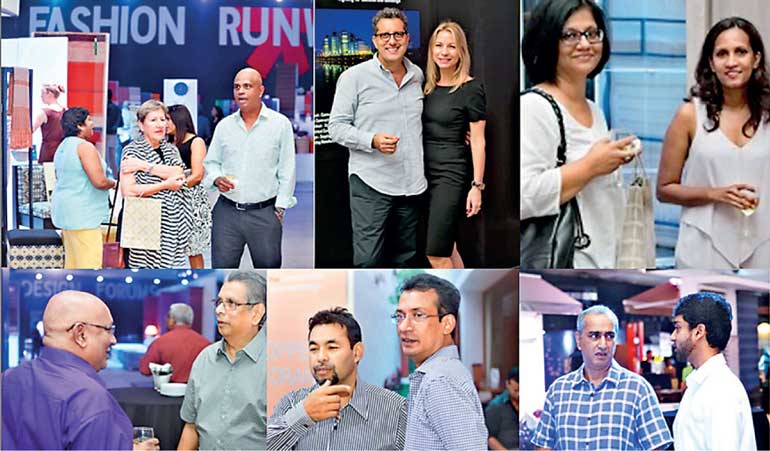 Distinguished architects, hoteliers, designers and guests at previous SLDF Interior Design Exhibitions
Sri Lanka Design Festival (SLDF) has become a calendar event awaited across all fields for an experience of brand positioning, knowledge sharing and redefining the future of fashion and interiors. SLDF in its seventh year has attracted audiences both locally and internationally in the hospitality, apparel and construction industries, continuing to make this a unique event to participate and attend. The Interior Design Exhibition marks its third consecutive year, making SLDF a successful platform in elevating contemporary interior and product design in Sri Lanka. It is a not-to-be-missed opportunity for any company operating in the interior and product design fields. Following is an interview with SLDF Festival Director Mihiri de Silva, which sheds light on how SLDF 2016 will redefine industry standards to elevate Sri Lankan interior design companies to the forefront and create more commercial opportunities with the right industry and clients: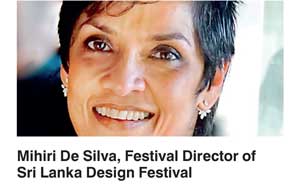 Q: Can you give us an insight into the kind of event?

A: SLDF Interior Design Exhibition is perhaps Sri Lanka's only interior focused event, hence gaining immense popularity from inception to date. We selectively bring on board an array of clients to showcase at this exhibition which is a combination of a well curated exhibition and a B2B environment for participants and clients, facilitating on new commercial relationships for our participants. It is open to the general public and anyone who is either building or refurbishing their home, hotel or office as well. There will be high net-worth individuals and corporate professionals who are looking to improve their residential and corporate spaces.


Q: Who will be your participants and what kind of products will be showcased?

A: Our participants are all interior related industries showcasing contemporary design product from furniture to furnishings, lighting and shading, bathroom and kitchen solutions, bedding and linen, carpets and rugs, handicrafts, art and decor, outdoor surfaces to paint, etc. In our 2016 edition, SLDF IDE also aims to be a catalyst for the booming building/construction industry, hospitality business and tourism in Sri Lanka while further strengthening the country's positioning as an emerging design hub for South Asia. The event will be an inspiration for architects at all levels, allowing them to rethink on curating spaces to match the market needs.


Q: What kind of participants has participated in the previous years?

A: SLDF interior design exhibition has included the designer product ranges and services from leading interior brand names; 3D Concept Studio, A-brand flooring, Alpha Industries, Anim8, Alumex, Abans BT Options,Balmond Studio, Celcius, Centerpoint, Colma, Dankotuwa, Delmege Lifestyle, Dimo Lighting Solutions, Dulux, Euro Pantry,Exel Holdings, Fairway, Fine Furniture Gandhara, Glassgard, JAT Holdings, Lalin Design, Light & Shade, Masterpieces, Millerholz, , Phoenix, Ranjanas Ceramic, Selyn, SMEG, Spring Air, True Value, Wall Art, Woody Wood Creators, World of Outdoors and Yamaha Music Centre.

For some organisations this was an opportunity to launch new products or to re-position their brands. The response we had from most of our participants was that the audience is very much on target and had the potential to be prospective customers and business partners.



Q: How do you think participants will benefit?

A: Firstly, I think being part of SLDF Interior Design Edition will position participants as specialists in their particular area. I think in today's design driven world, consumers value innovation and creativity as a core need. In this light, it becomes a unique and valuable opportunity to position your brand. Secondly, the powerful mix of the audience in attendance is a priceless opportunity to have direct access to some very influential personalities and host product launches or unveil new design-oriented services to this audience. From a company's point of view, it would be really easy for them to recover their investment in participation as there had been companies who have benefited in the past. Thirdly, each space will be curated by an international design team consisting of qualified interior designers, set designers and visual merchandisers. Having this mix of professionals to help showcase your brand, will place it on par with any international design exhibition display.


Q: What kind of audience will SLDF Interior Design Edition attract?

A: We always attract the correct audience who can contribute to the success of the exhibition. We will have a specifically invited high net worth audience consisting corporate of the highest tier of hoteliers, hospitality industry leaders, construction companies, engineering firms and media. Our fashion and apparel agenda will also contribute an audience of key personnel from the industry bringing together a unique audience for the event. In addition to this, the doors will be open to the general public. We feel it is very important to engage the public as SLDF grows and that essential recognition for design becomes imperative which will benefit the companies selling interior products.


Q: Is there a theme under which IDE is being hosted?

A: There will be more 'Form meets Function' this year. The exhibition will showcase how organisations rethink on meeting commercial perspectives and strengthening their brands through positioning them with International Standards. Curated stalls will be built around the concept of 'Future Tropical Modernism'. Headed by our phenomenal Spanish interior design expert Kike Macias and his team, we will successfully deliver in creating curated spaces that will help organisations to focus on both industrial and natural textures.


Q: What kind of events will a visitor to SLDF Interior Design Edition see?

A: The highlight of SLDF Interior Design Edition will be a mega interior design exhibition – and this is no ordinary 'trade fair'. The inspiration for our exhibition this year is woven around a concept called 'Future Tropical Modernism'. Hence we will be creating curated spaces by collating elements of tropical style with contemporary design. The exhibition will have a mix of cold and warm materials, industrial and vegetation depicted through lighting, shadows and textures. So there will be specifically curated stalls, dedicated areas displaying major worldwide trends in interiors and a fantastic interior design forum with a series of impressive speakers leading a globally relevant discussion from Sri Lanka.

This will also facilitate participating organisations to question if they are catering the market needs. With changes in the industry, organisations are bound to think of smarter environments, simplicity and seamless functionalities.


Q: Can you give an insight into the calibre of speakers at the Interior Design Forum?

A: We will have eminent speakers to contribute good insights this year as well and it will be a mix of international and local speakers, giving our audience the best input to elevate their businesses/careers to the next level.

To give some examples from our 2015 Interior Design Forum we had a panel of speakers representing countries of best design. Designer Daniel Becker from Germany discussed on his innovative lighting system called 'Sparks' that can revolutionise interior design and Ignasi Bon Joch from Barcelona who had valuable insights on cutting edge interior design concepts. The forum consisted of some local industry experts like John Balmond, Director of Balmond Design Studio and Architect Murad Ismail from MICD Associates who discussed the relevance of being pro-active for market changes in interior design.


Q: When is SLDF happening this year and how can organisations or individuals find out more or become part of SLDF Interior Design Edition?

A: The event is scheduled to take place from 4 to 6 November at the Sri Lanka Exhibition and Convention Centre (SLECC). This event is held parallel to Mercedes Benz Fashion Runways so this audience will feed into the exhibition as well. We are currently looking for companies who will benefit from this and have good product to showcase. SLDF can be reached at the SLDF Secretariat at 011 5867772/3. AOD; 29, Lauries Road, Colombo 4.