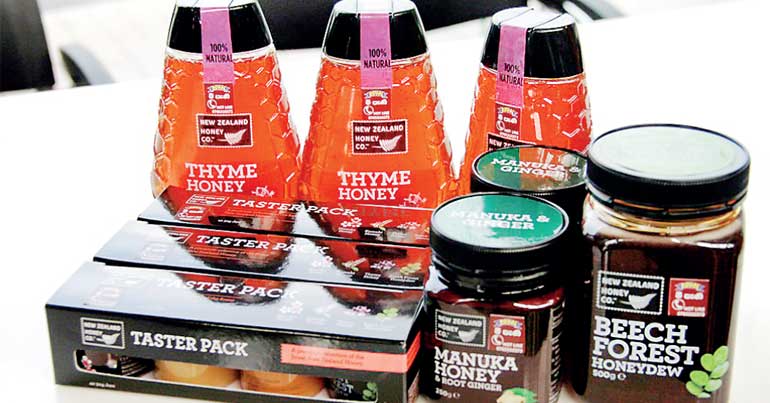 Royal Cashews New Zealand Honey
Royal Cashews, leading cashew processing company in Sri Lanka has teamed up with New Zealand Honey Company to introduce world famous 'Manuka Honey' and other specialty honey products to Sri Lankan consumers.

New Zealand Honey Company that produces best honey products in the world has appointed Royal Food Marketing Company as its sales agent in Sri Lanka and Maldives from 2015.

Manuka Honey product is rich with natural UMF 5+ and UMF 10+ (Unique Manuka Factor) as it is made with natural nectar that bees collect only from Manuka flowers. Manuka flowers produce valuable enzymes that no other flower produces.

Heart ailments, cancer and ailments in the stomach are caused by micro-organisms and Manuka Honey has the capacity and ability to control these microbes. It also enhances human vigour.

Manuka Honey is rich with Ayurvedic merits and qualities. Its usage contributes towards better eyesight, reducing body weight, overcome impotence, controlling asthma and diarrhoea, relief for ailments in the bladder area. For beautification purposes good quality honey is required. Manuka Honey with its special Ayurvedic goodness is best for salons to use for beautification purposes.

Three flavours of world famous Manuka Honey can be now purchased in Sri Lanka. Lemon, Cinnamon and Ginger are these three flavours. Other honey products manufactured by the New Zealand Honey Company are; Beach Forest, Thyme, Kamahi, Rata, Clover and Eco Forest Specialty Honey.

All these products are now available in Royal Cashews outlets situated at Crescat (Colombo 03), World Trade Centre, Liberty Plaza, ODEL, Arcade (Independence Square), K-Zone (Ja Ela and Moratuwa), Kandy Uptown, Royal Mall-Kandy, Southern Highway (Welipenna stop), Negombo, Arpico Supercentres and Laksala-Colombo.

Royal Food Marketing Managing Director Dr. Ruwan Wathugala said his company partnered with New Zealand Honey Company in 2015. "I started cashew processing business in 1999 as a hobby. Within a very short span we were able to secure local market and were venturing into foreign markets. At the time New Zealand Honey Company was testing new flavours of their world famous honey products. They were in need of best quality cinnamon. We catered to that need successfully. In the process we were able to introduce best cinnamon products of Sri Lanka to the world." He added, "We are happy for being able to offer Sri Lankans the very best honey products in the world made by New Zealand Honey Company."

Royal Food Marketing Company commissioned in 1999 has ISO 22000, HACCP and GMP standard certifications. It is the foremost cashew processing company in Sri Lanka conferred with ISO 22000. Royal Cashews products come in diverse mouth-watering tastes. These products are marketed with 19 tastes in 682 types of containers and in 101 containers specially made for gifting purposes.

Research and development wing of the company has experimented and introduced cashews with tastes that are unique to the company. These tastes include; Cheese and Onion, Sugar coated, Chilli Garlic, Hot Pepper, BBQ, Chilli Seasoning, Spanish Tomato, Salt Extra Fine, Shrimp and Red Onion and Sour Cream and Onion.

In addition to this varieties, Sri Lankan authentic cashew curry canned and exported as 'Royal Cashew Nut Curry' by the company has created a heavy demand by foreign countries.

The company sources and selects the best quality raw cashew nuts from Sri Lankan cashew cultivations for processing.

Royal Cashews products are exported to Malaysia, Japan, USA, UK, New Zeeland, Germany, Australia, Austria, Maldives and Saudi Arabia.

Royal Cashews brand has won many awards, accolades and endorsed with standard certifications. The brand has won Pro Food 2009 and 2011 awards for nature-friendly packaging, MACO business excellence award, Lanka Star President's Gold Award and ASIASTAR 2015 award for Green packaging.

Royal Food Marketing Company has two subsidiaries; Greenway Asia Lanka and Trust Lanka Suppliers.