Reiterates no agreements which will endanger economy and culture of country
President Maithripala Sirisena emphasised that the Government will not enter into any agreement which will endanger the local economy and the culture of the country.

The President pointed out that even though the political rivals spread false rumours regarding the agreement to be signed with India in the future, these are baseless allegations.

He made these observations participating in an opening ceremony of the ready mixed concrete factory in Balangoda, on 12 February.

The President further said when the UN High Commissioner for Human Rights met with him, following his tour to various places, including the North and East of the country and understanding the actual ground situation, he commended the current situation of the country as well as pledged to provide every possible assistance for the future development works of the country.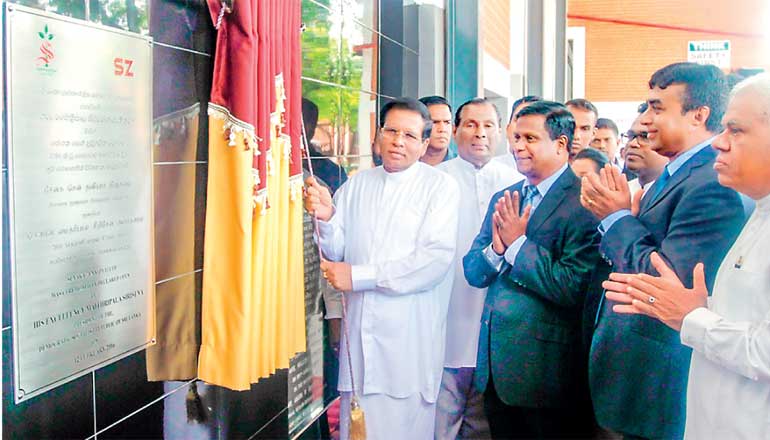 "Even though some political leaders, states through various newspapers that there are foreign influences on Sri Lanka, the President said, adding that there is no any type of influence and the present government had to face the results of their wrong actions.

President Sirisena stressed that the people of this country brought him to power to take the country forward not to take the country backward as said by the political rivals. He also said that he is even ready to sacrifice his life to protect the dignity of the nation as well as the country while not bow down to any foreign influence.

The President said he is expected to enter into few agreements with the Germany and Austria during his future tours to these countries to develop the economy of this country.

Expressing his views regarding the use of the Internet he said that in this present context some section of the society use the Internet to destroy the good image of school students to Armed Forces officers, public servants as well as politicians and the President further said that they should understand the internet was created to use for the betterment of the society not for the destruction.

President Sirisena, after unveiling the plaque, made an inspection tour of the new factory.

Political representatives, including ministers W.D.J. Senevirathne, Harin Fernando, Deputy Minister, Karunarathna Paranawithana, proprietor of the company, Senaka Gurusinghe and his family members participated in the event.