Regus, the largest global workspace solutions provider partnered with MTI Consulting as a 'workspace partner' to provide workplace solutions for MTI's 'idea2fund' project initiative.

The concept behind the idea2fund project aims to identify and support businesses that encompass a disruptive business model and hence, pave for them the way to build-up and support them in realising their business potential. The preparatory platform through the idea2fund program would assist prospective entrepreneurs to put forth their venture ideas, be challenged and receive constructive feedback, get connected with investors and receive start-up consulting advisory and execution through MTI Consulting.

Through an understanding that would see an allocation of selected Regus Business Centres across Sri Lanka, the brains behind the potential entrepreneurial ventures will be provided with fully-equipped office spaces, on-demand meeting room facilities, day office facilities and other services at special rates.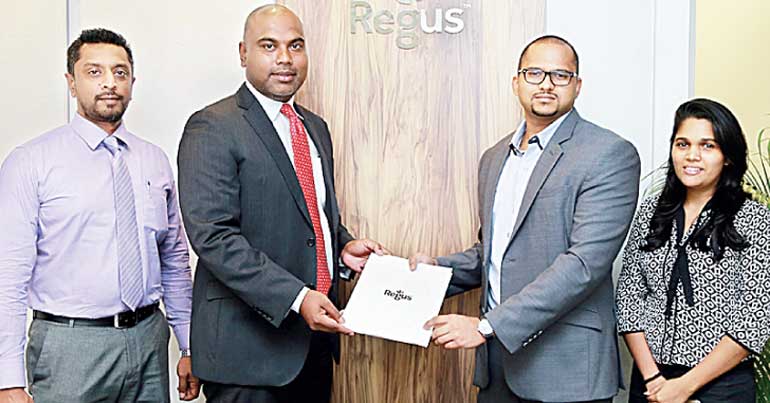 From left: Coaching General Manager Clifford Surendran, Country Manager Dr. Nirmal De Silva from Regus Sri Lanka exchanging the agreement with Business Analyst Gayan Dias and Marketing Analyst Malithi Herath from MTI Consulting


Commenting about the company's association with MTI Consulting, Regus Sri Lanka Country Manager Dr. Nirmal De Silva said, "We are indeed pleased to join hands with MTI on this unique venture. With over 25 years of industry experience in over 106 countries, Regus has always recognised the importance of start-ups for any economy. We hope to work very closely with MTI to help start-ups in the country to derive the benefits of the world class solutions that Regus has to offer."

MTI Consulting CEO Hilmy Cader disclosed, "We see this initiative as a game-changer when it comes to entrepreneurship development. We all understand the challenges of allocating funding when it comes to start-ups and idea2fund will now help overcome that obstacle. We are thankful to have received the backing of some of the best and well-established companies in Sri Lanka as well as be tied-up with Regus Sri Lanka when it comes to flexible workspace allocation for the prospective ventures."

Currently, the Regus network includes six strategic locations in Sri Lanka. They include the World Trade Centre (WTC) in Fort, GPD Building on Dharmapala Mawatha, Colombo 07, Parkland Building on Colombo 2, McLaren's Building on Bauddhaloka Mawatha, Colombo 04, Lotus Building on Nawala Road, Nawala and Bernard's Business Park on Dutugemunu Street, Dehiwela.

Regus' network of more than 2,600 business centres in 106 countries provides convenient, high-quality, fully serviced spaces for people to work, be it for a few minutes or a few years. The benefits the clients would receive would no doubt be instrumental in determining the future aspirations of an individual or business related entity.

The idea2fund project aims at attracting funding potentials for applicants who could be students and early career professionals to experienced and existing niche entrepreneurs. Recently, after realising the great endeavour that MTI Consulting has initiated this year with the idea2fund program, top corporates from a number of established and recognised industries in Sri Lanka had come forward and pledged in an investment pool totalling Rs. 700 million.