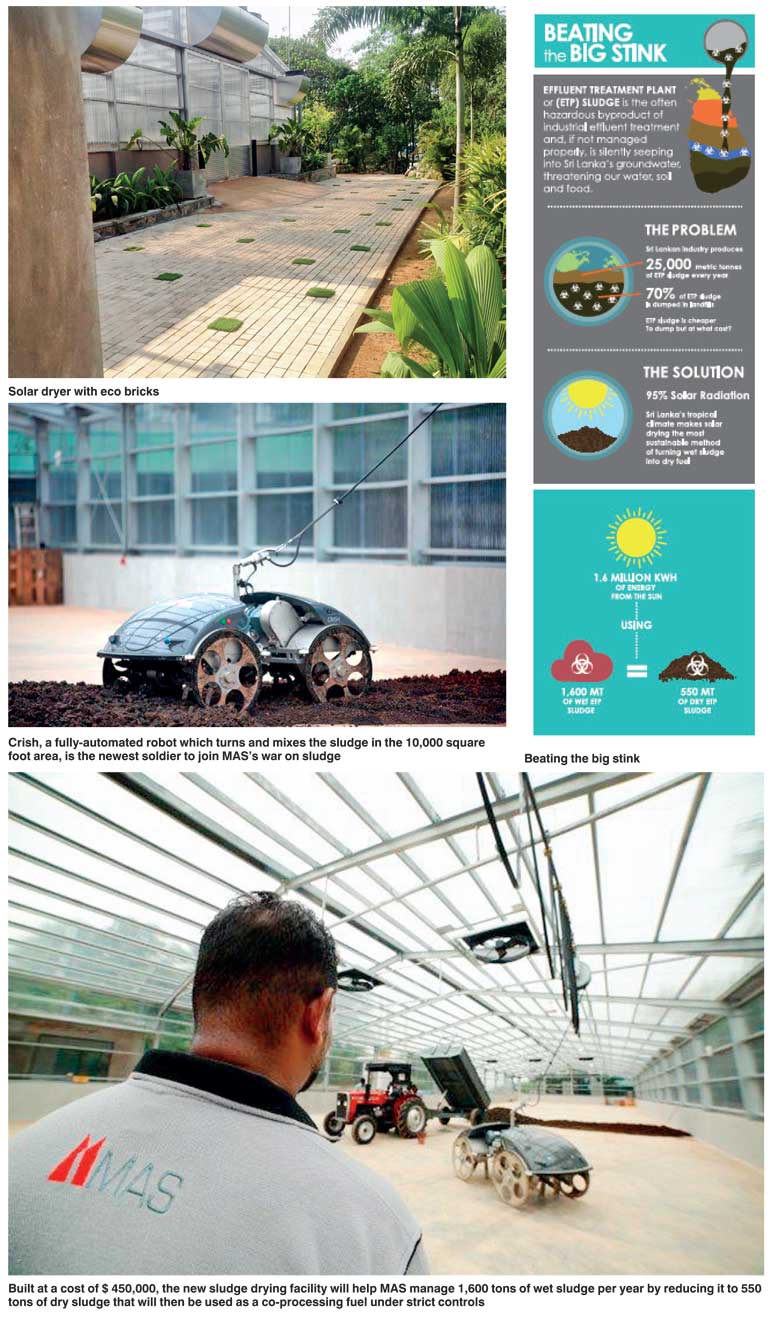 What's wrong with our water? Apparently nothing and everything at the same time. While the rest of South Asia is increasingly feeling the pressure of water stress induced by population growth and urbanisation Sri Lanka has been told that it will be among the few countries who will experience low water stress in the future.
But this comforting fact literally holds no water if Sri Lanka continues to pollute its groundwater and its dwindling freshwater resources at its current pace. The quality of freshwater and groundwater can easily be compromised through malpractices by both industry and people.
What this means for MAS

Water has become a priority issue for many development practitioners who recognise the potentially devastating impact of water stress on companies and communities. Companies that depend on water for their operations such as MAS also recognise that the responsible use of water is a key business issue. As a key consumer of dyes and colours, the apparel and fabrics industry also uses significant amounts of water while using these products to process its yarn and fabrics.
From sludge brick to sludge bot

The journey in 2011 MAS began extensive research and development to create a long term solution for the problem of ETP Sludge. So began the Great Brick project at the MAS Fabric Park in Thulhiriya which has become one of the group's most sustainable initiatives towards zero landfill. After months of intense R&D the teams achieved a breakthrough which turned ETP sludge into eco bricks.

Since then MFP has perfected the process and has converted all its sludge to thousands of bricks. In 2015 the zone turned all of its 600 tons of ETP sludge into 70,000 bricks, tiles and grills that have been used by the group for the landscaping of its own facilities.
Responsible investments continued with a touch of technology

In 2015 MAS expanded the breakthrough project to the Biyagama Industrial Zone with the construction of a solar sludge dryer that will take its water commitments to new heights. The facility will help dry the 1,600 tonnes of wet sludge MAS produces in Biyagama each year. The industrial zone in Biyagama alone produces 5,000 tonnes or one fifth of Sri Lanka's total sludge output. MAS hopes they can extend the service to industry peers inside the zone in the future. ​
The operation is 95% dependent on the heat of the sun with solar radiation used to evaporate the unwanted water fraction. The state-of-the-art green house facility has the ability to harness more than 1.6 million Kwh of free energy annually via solar radiation. The one-man facility is complete with Climate Sensors , PLC's (programmable logic controllers ) and SCADA (supervisory control and data acquisition) solutions for remote monitoring for engineers to view and control the parameters from anywhere via GSM.

MAS Fabric Park CEO Misver Deane reiterates: "We want to stop the malpractice of dumping ETP sludge. The harm done by effluent waste seeping into our groundwater is a national problem and threatens future water resources. If we create excitement about this solution we hope more companies will follow and a national policy on the management of ETP sludge will take effect."

MAS Fabric Park DGM Hydro and Environment Harsha Deraniyagala said: "This is the first industrial greenhouse aided solar drying model implemented in Sri Lanka, based on optimised thermo-dynamic controls initiated by online climatic condition sensing throughout the year, for gaining the best possible portion of free energy given to us by the sun."

"MAS has picked its battles well in the war to protect critical ecological resources," says Sarinda Unamboowe, the Group's Board Director directly overseeing Sustainability "Water is simply just one of them and the commitment to protect, preserve and finally create a positive impact is practiced almost religiously inside. Now it's simply time to start telling the stories and sharing the lessons learnt. We hope it inspires more to create their own pathway to responsible leadership."


The MAS sludge dryer can be reached at [email protected]