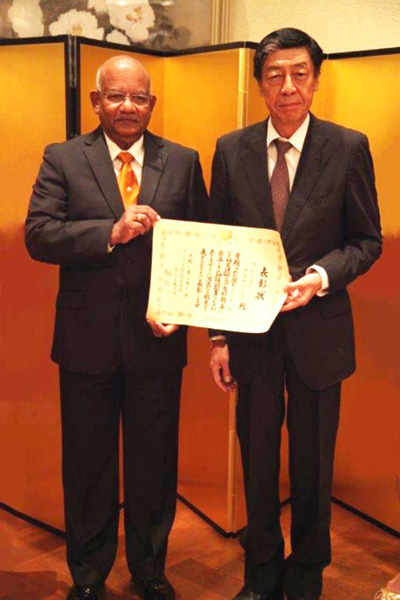 Mahinda Saranapala, past President of Japan Sri Lanka Technical and Cultural Association (JASTECA), was conferred a certificate of commendation by the Ambassador for Japan in Sri Lanka Nobuhito Hobo at a ceremony held at the Ambassador's residence in the presence of a distinguished gathering of well-wishers, members of his family, and management staff of the Japanese Embassy recently.


The Ambassador in his opening remarks mentioned the yeoman services rendered by Saranapala during the last 27 years whilst being an active member of JASTECA. When he was the President of JASTECA many activities were carried out and especially to propagate the concepts such as 5S and Kaizen in Sri Lanka. He attended four scholarships in Japan and was the first to implement the 5S concept in Sri Lanka in the year 1989.


The Ambassador emphasised the fact that the commendation was in recognition of Saranapala's distinguished services in contributing to the deepening of mutual understanding and friendship between Japan and Sri Lanka.

The Ambassador held a reception after the ceremony which was attended by a distinguished gathering of well-wishers, Vice Patrons and Executive Committee members of JASTECA, members of Saranapala's family and the management of the Embassy of Japan.

Saranapala is the Chief Executive Officer of Kelani Cables PLC.