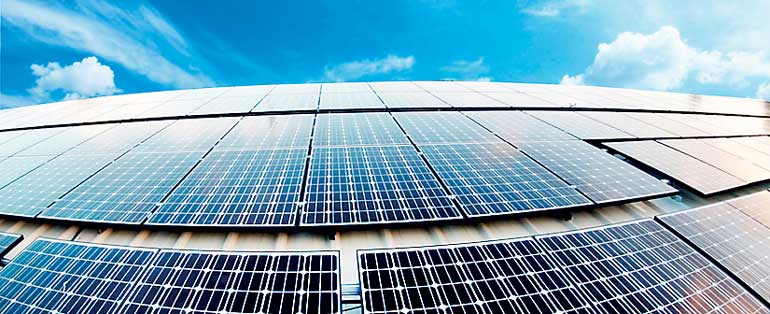 Solar Panels – JLanka Solar Systems have been able to reduce over 3,521 tons of CO2 (Carbon Dioxide) emissions which could be equivalent to saving 6,550 trees on the planet or over 1.352 million litres of Hydrocarbon Fuels burned for consumption
Sri Lanka's pioneering solar power solutions provider, JLanka Technologies proudly achieved the 5 GWh (Giga Watt Hours) Green Energy generation milestones with company's island wide installations since 2011. Celebrating this rare and significant achievement, JLanka Technical Manager Channa Mudhalige mentioned that the company is delighted to achieve this 5GWh milestone through over 750 solar energy systems with the best technology of the world linked with quality that Sri Lanka has ever witnessed in the Solar PV industry.

"We are the owners of the highest number of solar installations around the country as the leading next generation solar service provider in Sri Lanka, and it's been only four years," Mudhalige further added. Undoubtedly, JLanka Technologies is the leader in Sri Lanka's solar energy sector with the right technology and expertise.

According to him since the inception to date JLanka's total installed solar electricity capacity has now exceeded over 3.75MW and in days to come it would reach 4 MW bench mark. JLanka's vision towards a Greener country has reduced over 3,521 tons of CO2 (Carbon Dioxide) emissions which is equivalent to saving 6,550 trees on planet or over 1.352 million litres of Hydrocarbon Fuels burned or 2,380 tons worth of coal used for power generation.

Mudhalige further explained, "We commenced our journey with the meticulously selected partners and the world's best technologies. We are proud to be the partners with the global leaders in industry SolarEdge and Trina Solar. Selection of SolarEdge and Trina Solar is the result of many years of research to explore and experiment suitable inverter technology and solar panels to match grid conditions and environmental conditions in Sri Lanka."

Sri Lanka's premier blue chip brands such as Dilmah and Arpico as JLanka's prestige clients contributed largely with over 354.4 MWh and 263.3 MWh respectively in achieving 5GWh benchmark milestone.

JLanka Technologies, the number one solar energy supplier to the National Grid in Sri Lanka with 15,000 kWh per day power generation and these systems are empowered with over 17,000 Trina Solar modules and 17,000 SolarEdge power optimisers and about 1,500 SolarEdge inverters saving 11,000 kg of greenhouse gas emission per day.

Mudhalige highlighted the safety aspect of an installation, where ultimate protection is needed for both lives and property. "Safe DC solution is the solution that you are looking for. It will discharge the high voltage on your roof within 10 seconds," he said.

The unique fire safety feature only embedded with SolarEdge inverters, JLanka Technologies provides next generation Solar PV technology to nation with embedded fire safety protection according to the latest international standards. This would effectively remove all known system constraints encountered by both residential and commercial sector investors in green energy.