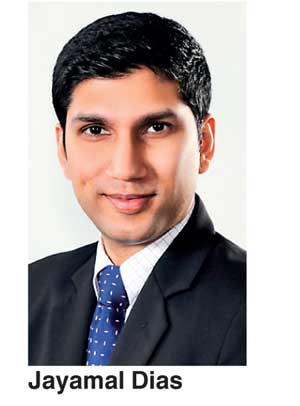 Indocean Developers, the promoter of the Altair twin tower high rise, has announced the appointment effective 15 July, of Jayamal (Jay) Dias as Head of Sales and Marketing.

Dias was till recently Head of Sales for City Hotels at Cinnamon Hotels and Resorts and was previously the Director Sales and Marketing at the John Keells Subsidiary Asian Hotels and Properties PLC (Cinnamon Grand Colombo).

Announcing the appointment, Indocean Developers Director Jaideep Halwasiya said it signifies the company's long term commitment to Sri Lanka and its interest in further investments beyond Altair.

"Jay has developed an impressive contact base in the high net worth segment, has interacted extensively with individuals in this segment and understands the high-end property market," Indocean Developers Director Pradeep Moraes said. "While significantly strengthening our sales and marketing team, his presence will enhance our capacity to explore new opportunities in Sri Lanka."

Educated at Royal College, Colombo and the holder of a Bachelor's Degree in Banking and Finance from the University of London, Jay Dias has also acquired professional training in Change Management from Harvard Business Publishing and in Conceptual Selling and Strategic Selling from Miller Heiman.

At John Keells, he led sales and marketing activities for the Group's city sector properties Cinnamon Grand, Cinnamon Lakeside and Cinnamon Red, and was a member of John Keells' General Management Committee where all strategic decisions are made with regard to the Group's Leisure sector.

Prior to John Keells, Dias was attached to the apparel sector with Avery Dennison (A fortune 500 Company) in the capacity of Global Account Manager.

"Altair is by far the most exciting and game-changing property development in Sri Lanka today, and I am delighted to be part of it," Dias said. "It represents a defining benchmark in luxury high rise living not just for Sri Lanka, but for the South Asian region, and is a dream product to market and sell."

Designed to be a new echelon in contemporary living in Sri Lanka, Altair will also bring a new dimension in aesthetics to Colombo's skyline. It is intended to be a one-of-its-kind development in South Asia in terms of architectural design, structural engineering, and living experience.

By end June, the twin towers of Altair had risen to the 22nd level. On completion, the building will comprise of a 63-storey 'leaning' tower and a taller 68-storey vertical tower, with 400 luxury apartments that offer spectacular views of the Beira Lake, the Indian Ocean and the city of Colombo.

The building is designed by the legendary global architect Moshe Safdie. The development's 1.5 million square feet of high-end eco-friendly living space will be complemented by 35,000 square feet of supportive up-market retail space.

Indocean Developers is a venture of the six conglomerates that make up the South City Group, which brings together over 150 years of cumulative development experience. The constituent partners of the Group have completed 50 million square feet of real estate development and currently have another 20 million square feet of space under construction.