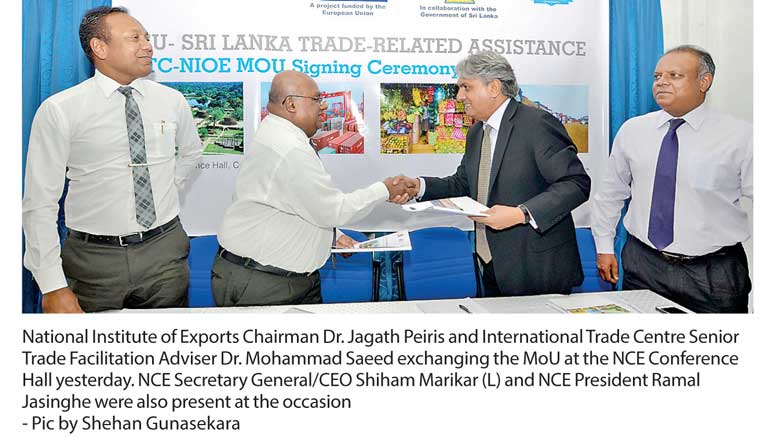 The National Institute of Exports (NIOE), a subsidiary of the National Chamber of Exporters of Sri Lanka (NCE), conducts professional courses in the vital field of exports for the benefit of those employed in export enterprises. These courses enable them to enhance their knowledge, improve performance, advance their career prospects and are beneficial to students who wish to make a career in the field of exports. They cover important subjects related to the export/import trade and are conducted at the Certificate, Advanced Certificate and Diploma levels, awarding recognised professional certificates.

The International Trade Centre (ITC), a joint United Nations/WTO agency for trade-related technical assistance based in Geneva has recognised the quality of services provided by the NIOE for the enhancement of exporting SMEs. The ITC has therefore sought to collaborate with NIOE to provide e-learning facilities, especially for exporting SMEs, as part of the EU-Sri Lanka Trade-Related Assistance project.

This four-year project, financed entirely by the European Union to the effect of EUR 8 million (Rs. 1.3 billion) and implemented by ITC in partnership with UNIDO, contributes to inclusive trade-led growth and regional integration. More specifically, it supports SME export competitiveness and value addition in sectors with high potential for economic growth and development.

Among the overall objectives, the project aims to increase competitiveness of Sri Lankan SMEs in regional and EU markets. The project will also help Sri Lanka to integrate the policies and regulatory reforms of the World Trade Organization (WTO) and provide capacity-building to SMEs to manage cross-border procedures and comply with market requirements in theEU and SAARC regions.

For this purpose, the ITC will collaborate with the NIOE through a formal Memorandum of Understanding (MoU) between the two organisations officially signed on 14 July. This collaboration, while extending the scope of NIOE's professional programs to the SMEs, will also reach a wider audience of individuals to benefit from the online courses. The ongoing cooperation between ITC and NIOE will eventually contribute to raise awareness on the benefits of the WTO Trade Facilitation Agreement, so as to enable participants to become better acquainted with export procedures associated with successful trade.

The e-curriculum, promoted and facilitated by NIOE, will offer a series of online courses to exporting SMEs and students interested in trade on a range of export related-topics, in particular on export regulations, documentation, freight and logistical requirements associated with the export of goods from Sri Lanka. Particular attention will be devoted to export procedures in the field of spices, garments and fresh and processed fruits.

The e -learning courses will be available for registration during September 2017. For any inquiries, send an email to nioe@nioe.lk.