Blue Mountain swept the APPAS and IFM Awards, and is shortlisted at the Europe Business Assembly and The IAIR AWARDS this year
In 2015, Blue Mountain Properties bought home the highly coveted five-star award in the 'Property Consultancy Marketing' category at the Asia Pacific Property Awards Summit, held in Malaysia and the 'Best Property Consultant' award at the International Finance Magazine (IFM) Awards, held in the UK. In December of 2015, Blue Mountain also secured a nomination for 'Best Regional Enterprise' at the Europe Business Assembly (EBA), where Chairman Dr. Hiran Hettiarachchi was nominated for the award of 'Manager of the Year'.

The award ceremony – the 'International Achievement Forum', conducted by the EBA, is due to be held on 22 March at the Institute of Directors (IoD), London, United Kingdom.

Blue Mountain Group Chairman Dr. Hiran Hettiarachchi receives the award as Blue Mountain Group Managing Director Mohan Perera looks on


Blue Mountain properties has also been shortlisted as the Company of the Year for Leadership (Special Category) – Regional by IAIR AWARDS which is one of the world's leading ranking and prize for excellences in global economy and sustainability.

The IAIR AWARDS is focused on Global Economy and Sustainability and in particular in the following categories: Green Economy, Alternative Investments, Philanthropy, Private Equity, Real Estate and Property, Succession Planning and Family Businesses.

Five years in the making, Blue Mountain has captivated the imagination of home and apartment owners, breaking new ground and becoming a formidable player in the real-estate industry becoming one of the most highly awarded real-estate companies in 2015. Blue Mountain, has secured a significant market share of the land sales market and is growing constantly boosted by its innovative take on traditional services.

The individual behind of Blue Mountain's rise from a single employee company half a decade ago to over 2,100 employees in 2016, is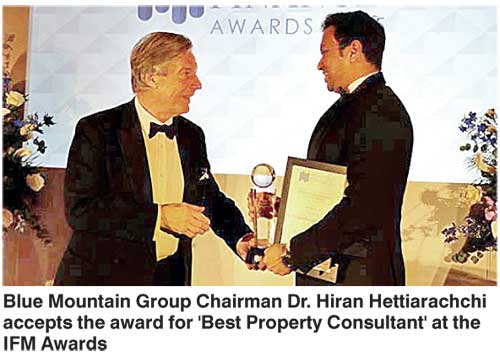 Dr. Hiran Hettiarachchi (MBBS – Colombo and MBA – Australia). The company was only an incidental project that he began while in Medical College, but one project led to another and Blue Mountain snow balled into a fully-fledged real estate company with a dynamic presence across the island, with offices in Colombo, Malabe, Kadawatha, Negombo, Kandy, Galle, Ratnapura as well as virtual offices in other main cities.

Blue Mountain has raised the bar for all others in the industry by being the only award winning ERP accredited real estate company in the island, with an internationally trained IT team and IFS system valued at Rs. 100 million.

Dr. Hiran Hettiarachchi stated, "Our performance in Q1 is an excellent start to the year, and we look forward to taking the company to even greater heights, by strengthening our brand as well as our product and service offering. We also received significant international recognition last year, by winning a highly acclaimed five-star award at the prestigious Asia Pacific Property Awards Summit (APPAS) and the 'Best Property Consultant' award from the International Finance Magazine (IFM) Awards.

"We are hopeful that we will bring back metal at the International Achievement Forum in March 2016. Our awards tally is one of the barometers on which we value our success. Our performance in the area last year is a key indicator of the quality of our offering and the dedication of every Blue Mountain employee."